Wicked Pictures is pleased to announce 2015 AVN Best Director (Feature) winner Brad Armstrong's two-disc DVD Magic Mike XXXL: A Hardcore Parody is now available in stores. The subject of intense mainstream coverage from such top websites as Cosmopolitan, Uproxx and TheFrisky, the filmmaker's latest mega-production began shipping July 1st, the same date its mainstream counterpart arrived in theaters.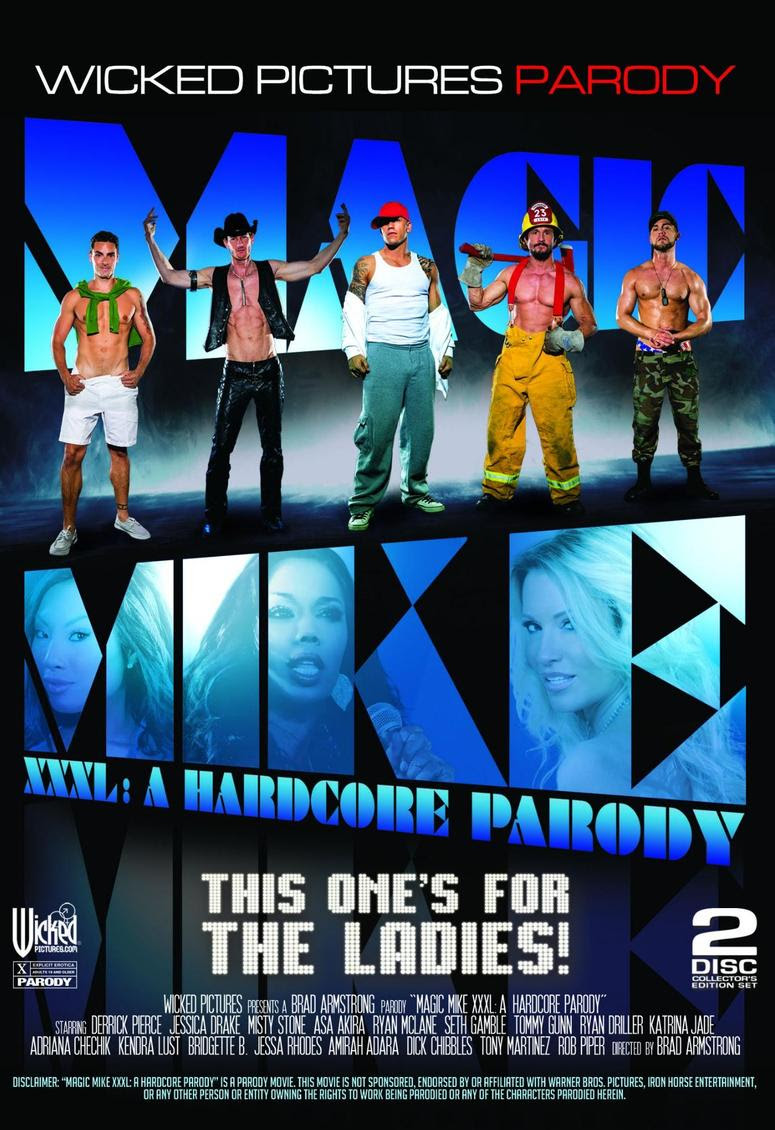 Magic Mike XXXL: A Hardcore Parody features Derrick Pierce as Mike, Ryan McLane as Dallas, Tommy Gunn as Big Dick Richie, Ryan Driller as Ken, Dick Chibbles as Tarzan, Seth Gamble as The Kid, and Tony Martinez as Tito. The movie also stars Wicked Girls jessica drake and Asa Akira, as well as Rob Piper, Misty Stone, India Summer, Jessa Rhodes, Kendra Lust, Adriana Chechik, Katrina Jade, Amirah Adara, Maddy O'Reilly and Bridgette B.
The director, his talented crew and superstar cast were seldom out of the media spotlight over the 4th of July holiday weekend, thanks to the Magic Mike XXXL: A Hardcore Parody Release Party, a colorfully produced, patriotically-themed soiree that saw many cast members – including the men – dressing in character as they pressed the flesh with the many reporters, editors and photographers in attendance.
While Armstrong's name has become synonymous with stylishly-produced erotic dramas – his credits include such award-winning Wicked blockbusters as Euphoria, Falling From Grace, Fallen, Coming Home and Underworld – the prodigious filmmaker is no stranger to parodies. His first effort in the genre, The Rocki Whore Picture Show: A Hardcore Parody swept the AVN Awards, winning Best Parody – Comedy, Best Director – Parody, Best Screenplay – Parody, Best Editing, Best DVD Extras, Best Art Direction, Best Make-Up, Best Overall Marketing Campaign – Individual Project and Best Non-Sex Performance.
The filmmaker sees his latest parody as a chance to reach out like never before to a potentially untapped component of his audience – and the marketplace. "Wicked Pictures as a company always strives to bring quality adult entertainment to couples. Now, we're taking it one step further and focusing on the female porn lover – a consumer demographic that is often overlooked," he observes.  "I really think women and couples alike are going to love this movie. Our parody is spot on, the characters, costumes, locations and dance sequences are all perfect.  The guys all did a great job and really got into their characters, and it shows on screen."
For her part, Wicked contract superstar jessica drake happily concurs with the filmmaker's assessments. "This is a movie for the ladies as well as the men, and I'm so glad to have been a part of it! With each parody Brad Armstrong directs, I'm even more impressed with the casting, acting, characters, and sex! Derrick Pierce as Mike and Ryan McLane as Dallas are the highlights, everything else is icing on the beefcake!"
Asa Akira echoes jessica's sentiments, adding "even the dialogue days on this movie were the most fun I've ever had on set. The guys did such a good job! I got to sit in on a couple of the rehearsals, so to see that process was pretty neat. Ryan McLane is dead on as Dallas!"
McLane, in turn, is quick to join the Wicked Girls in praising the director's penchant for detail and his pursuit of excellence, revealing, "We met once a week for about two months at Brad Armstrong's home to work on choreography for free. That pretty much tells you all you need to know about how badly we wanted to make it perfect! Anyone could have done a Magic Mike porn parody, but I firmly believe that Brad is the only person in our business who was capable of turning it into an all-time porn classic."
In playing the titular character, Derrick Pierce was happy to assist Armstrong in his quest to attract female viewers. "In our movie, the action doesn't stop on the stripper stage. The ladies get more than just a little lap dance. My job was to take the guess work out of 'I wonder what it would be like to make love to that stripper' and make the fantasy a reality."
Wicked's two-disc DVD release delivers maximum value for the entertainment dollar. In addition to the 201 minute movie, the title includes no less than three bonus sex scenes, behind the scenes footage, dance rehearsals, sensual photo galleries, trailers, extended dance sequences, bonus dance footage, exclusive interviews and much more. The sum total is a package Armstrong proudly calls "Fun and sexy and entertaining. And gauging by the amount of mainstream press we've been getting on it, I'm guessing it's gonna be a huge success."
Magic Mike XXXL: A Hardcore Parody is now in stores, giving audiences everywhere the opportunity to experience the movie Cosmopolitan's Emma Barker credits with "Making the line between porn parody and Hollywood movie feel very, very thin!"
Below: Armstrong, drake, Akira and more at the Magic Mike XXXL: A Hardcore Parody Release Party.
Photography by Daniel Metcalf. 
About Wicked Pictures:
Established in Canoga Park, California on March 1, 1993, Wicked Pictures was formed with a firm commitment to producing quality adult productions created specifically for women and couples, a decision the company has stayed true to for over twenty years, even when this mission has seemed at odds with prevailing economic trends. And after a health scare in 1998 led many companies to begin instituting policies of mandatory condom usage, Wicked is the only producer still safeguarding performers' health by continuing to adhere to this policy over fifteen years later. Wicked continues to diversify its commitment to couples' intimacy through such initiatives as the romance-driven Wicked Passions label, niche imprints like Wicked Comix and Wicked Fairy Tales, the AVN / XBIZ award-winning educational series "jessica drake's Guide to Wicked Sex" and the Wicked Sensual Care Collection of luxurious lubricants and enhancers. These forward-thinking ventures allow Wicked to explore new ground while staying true to its vision of producing quality adult entertainment and strengthening its appeal to women and couples. For more information, visit www.Wicked.com, www.Facebook.com/WickedPicturesOfficial, or www.Twitter.com/WickedPictures.