VAN NUYS, CA — Manville Entertainment is pleased to announce that its highly anticipated all-male fantasy feature I Dream of Twinky: A Magical XXX Fantasy has officially hit streets. Jam packed with humor, chemistry, and hardcore sex, I Dream of Twinky is the studio's new release playing on a classic tale with an all-male twist. I Dream of Twinky is now available for retail.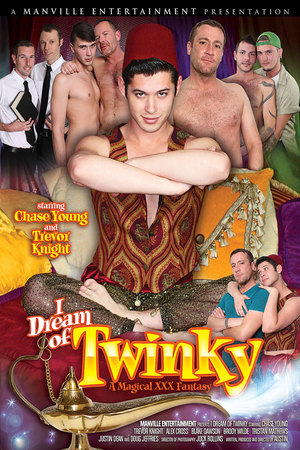 Austin, I Dream of Twinky Writer, Director and Executive Producer for Manville Entertainment, exclaims, "It's here!  I Dream of Twinky: A Magical XXX Fantasy is a mischievous romp centering around the question: "If you had three sexual wishes, and a sexy Genie to grant them, what would they be?" Pre-release reviews have been extremely favorable, with preorders through the roof, and we are so excited to finally share it across the market."
ChroniclesofPorniaBlog.com (COPblog) said, "I Dream of Twinky is a creamy dream ream delight from the naughty-licious minds of Manville Entertainment…Do yourself a favor and enjoy this sugary jizz tale at Manville Entertainment."
Gay comic review blog GayComicGeek.com also vlogged favorably for I Dream of Twinky: A Magical XXX Fantasy, pointing interested viewers to manvilleentertainment.com.
Discovering an ancient lamp on the beach, Rod (Trevor Knight) soon learns this antique is much more than it appears. While cleaning the lamp he releases Twinky (Chase Young), a playful, cock-hungry Genie who grants Rod 3 sexual wishes. It's the classic tale re-told with an all male twist – from the sexy "straight" repairmen to young men preaching religion to Rod's best friend and his young crush, no one escapes Twinky's magic… and no one wants to!
In addition to leading men Trevor Knight and Chase Young, I Dream of Twinky: A Magical XXX Fantasy also features Alex Cross, Blake Dawson, Brody Wilde, Doug Jeffries, Justin Dean, and Tristan Mathews.
I Dream of Twinky: A Magical XXX Fantasy features Bonus Material including photo galleries, Behind the Scenes footage, and "If You Had 3 Wishes…" cast interviews.
Follow Manville Entertainment on Twitter @ManvilleXXX and visit www.manvilleentertainment.com
For wholesale inquiries, please contact Adam Hasner at (800) 999-2483, ext. 1228 or adam@vantagedist.com. 
For additional information, please visit Vantage Distribution (http://vantagedist.com) or Manville Entertainment (http://manvilleentertainment.com).