Magnus Sullivan, screenwriter/producer of the groundbreaking film "Marriage 2.0," was a featured guest on Tristan Taormino's "Sex Outloud" radio show for the VoiceAmerica Radio Network. The episode recorded April 8 and will be available to listen to beginning today on the show's official website. Produced by LionReach Productions and distributed by Adam & Eve, "Marriage 2.0" is a new indie film exploring open relationships.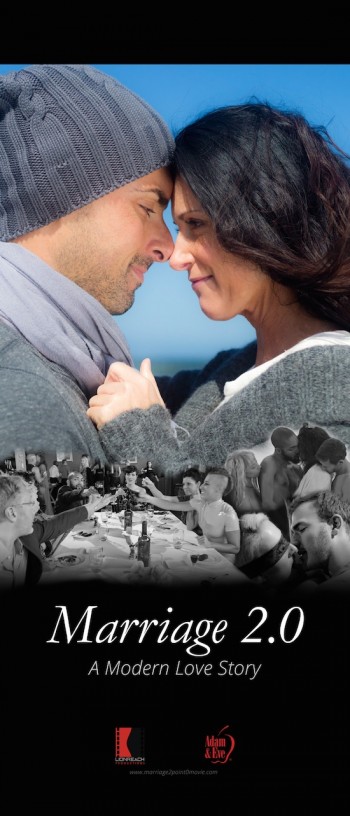 On the show, Sullivan joined "Sex Outloud" host, adult film director, author, and sex educator Tristan Taormino. To listen to the interview, visit www.SexOutLoudRadio.com. The interview will first air at 8 pm EST and will then be available to stream or download.
"I really had a great time speaking with Tristan and giving listeners a glimpse into what our film is about," said Sullivan. "I believe 'Marriage 2.0' is the first real challenge to mainstream cinema in its ability to weave hardcore sex into a compelling narrative, thereby claiming a new space that is the unique domain of adult. I think its the first real movie to emerge from the adult industry demonstrating Hollywood is incapable of creating a cinematic experience like this – just look at the failure of 'Fifty Shades of Grey' in its portrayal of sex."
Sullivan added, "Tristan really moved me with her review of 'Marriage 2.0.' She gets what we were trying to do with the movie on all levels, and she recognizes it as an innovative, challenging, and highly erotic film."
To watch the trailer for "Marriage 2.0" on IndieWire.com, click here. To watch the full-length movie on AdamAndEveTV.com, click here.
"Sex Outloud" which airs online each Friday, features Taormino as she explores the world of sexuality from every angle. Her show features interviews with leading authors, educators, artists and icons to give an uncensored, inside look at alternative sexual practices and communities while delving into topics such as erotic fantasies, BDSM, non-monogamy, the adult industry, and more.
"Marriage 2.0," widely considered a groundbreaking effort that has redefined the potential of adult cinema, is earning strong accolades from critics and media watchers alike. The film has earned a nomination for the Feminist Porn Awards, to be held in Toronto on April 17. The un-rated version of the film, received the Best Narrative award at New York's CineKink Film Festival in February. "Marriage 2.0" premiered February 26 on AdamandEveTV.com, an Adam & Eve property powered by GameLink.com.
The film features performances from adult entertainment stars such as India Summer, Ryan Driller, Dylan Ryan, Nina Hartley, and Mickey Mod, along with appearances from internationally renowned sex and relationship experts, such as Emily Morse, Chris Ryan, Marcia Baczynski, Carol Queen, and Reid Mihalko. The film follows a couple (India Summer and Ryan Driller) on their search for personal freedom, as well as emotional and sexual bliss within the context of an honest and committed modern relationship.
"Marriage 2.0" delves into the nature of commitment and relationships by weaving hardcore sex into a compelling, touching, and controversial narrative, which ultimately drives a film that challenges the portrayal of sex in cinema.
To follow "Marriage 2.0" on Facebook, click here. To follow on Twitter, click here.
For more information about "Marriage 2.0," visit www.Marriage2point0movie.com.