Isabella's Turn is the rarest of things: a porno with a truly unexpected ending.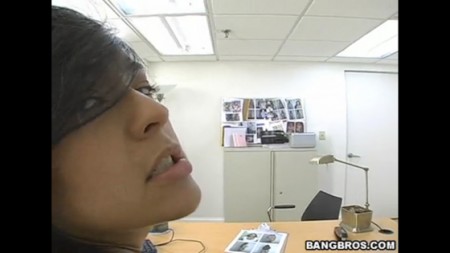 It begins normally enough. A busty brunette named Isabella walks into an all-white office room. A sleazy dude with hand tattoos says, "So what brings you here today? You want to be in a pornography movie?"
"Yep, because I like to have sex," Isabella answers. "You know, making a little money off of it isn't so bad either. So why not give it a shot?" Sleazy dude takes photos. The two get naked. Yadda yadda yadda. You know the rest.
It's only when the cameras stop rolling that shit starts to get weird.
The skin flick was shot in a warehouse near Miami International Airport on February 13, 2008, and released Valentine's Day (because nothing says romance like anonymous sex). Six years later, it is now at the center of one of the strangest legal battles Miami has ever seen.
This past April 30, the Puerto Rican porn star filed an anonymous, 11-page lawsuit against BangBros.com, the film studio Venetian Productions, and a half-dozen adult film affiliates.
Simply put, Isabella Unknown v. Venetian Productions and BangBros.com et al. is one of the most ingenious legal maneuvers we've ever seen. It's the Miami porn industry's Marbury v. Madison: a lawsuit so devilishly simple it threatens to undermine a multibillion-dollar business.
In her suit, Isabella claims her contract with BangBros is "illegal and unenforceable because the consideration given by Isabella to the Defendants was sexual intercourse outside of marriage, which violates the public policy of the State of Florida." Without a valid contract, the porn — which is still available online to this day — is "an invasion of her privacy" for which Isabella is due "restitution."
Translated from legalese: Isabella's contract with BangBros was bogus. Why? Because she was married when she boned for $1,000.
Florida is one of 21 states that still legally prohibit adultery.
Keep reading…
UPDATE: It appears that the parties will attempt to settle out of court. Isabella has voluntarily dismissed her action…