The AVN Show preparation is officially underway, and media registration is now open for the worlds biggest and best adult industry and fan convention, the 2015 AVN Adult Entertainment Expo (AEE), as well as the largest awards show in the adult industry, the 2015 AVN Awards, at Hard Rock Hotel & Casino in Las Vegas, January 21-24, 2015.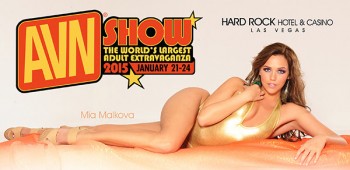 Eligible adult and mainstream media may register for AEE and the 2015 AVN Awards Red Carpet here or go to https://www.showreg.net/WebReg/AEE1501S/AEE_Press/Register.aspx?.
Media credentials for both AEE and the 2015 AVN Awards Red Carpet will be available at the website above.
Approved media will have access to the press lounge located next to AEE Press Registration – to conduct interviews, shoot photos in front of an AVN Show step-and-repeat and have access to computer work stations, free Wi-Fi, photocopy and fax machines, as well as press materials for talent and exhibitors.
All fan, trade and press attendees can go to AVNShow.com for the 2015 AVN Adult Entertainment Expo (AEE) and the AVN Awards Show, which will be held in January at Hard Rock Hotel in Las Vegas. The AVN Show will showcase an incredible lineup of the biggest names the adult industry has to offer, the hottest adult stars from around the world, a robust trade seminar program, stage shows, musical performances, and a first look at the cutting-edge technology behind some of the most innovative sex toys and novelties on the market today, and in the future. The festivities run from Wednesday, January 21 through Saturday, January 24, 2015.
The event schedule is as follows:
AVN Adult Entertainment Expo: January 21-24, 2015
AVN Novelty Expo: January 21-23, 2015
AVN Awards Show: January 24, 2015
To exhibit or sponsor the 2015 AVN Show, please contact the AVN sales team at aeesales@avn.com or (818) 718-5788.
AEE Press and media contact:
Brian S. Gross | BSG PR | 818.340.4422 | aeepress@avn.com | @bsgpr
AVN Awards Press and media contact:
Adella Curry | Fine Ass Marketing| press@avnawards.com