Los Angeles – Exxxotica wouldn't quite be the same without the lovable Draven Star, as she has attended almost every expo these past few years. Luckily for Ohio fans, Draven will be attending Exxxotica Columbus this weekend, August 26th through August 28th. Her partner for The 288 Podcast, Matt Slayer, will also be in tow.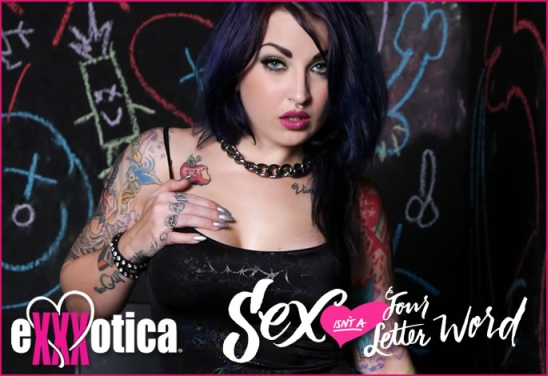 Draven will be signing at the Burning Angel booth, and will have pictures and merchandise available for purchase. Draven is always ready for a photo or chatting with her loyal fans. If you ever wanted to meet your favorite tattooed beauty, here's your chance. Matt will be hanging around as well, and if you ask nicely, maybe he'll be available for photo ops as well.
On this week's The 288 Podcast, Draven and Matt are joined by adult performer Ike Diezel. Ike (@ikediezel) is an AVN Winner, Director and self described Pipe Slinger. Ike pops in to have a (FEW) beverage(s) and chat about everything from his dog to mostly his opinions on the state of the industry. This episode features some deep behind the scenes porno politics. Ike also goes on to talk about what it's like to be a male performer and how it affects his interpersonal relationships. And, as noted by producers, this episode hold the title of "Fastest The Bottle Of Whiskey Has Ever Been Killed On Air", so chances are this will be one interesting episode!
The 288 features Draven, along with friend and partner, Matt Slayer, discussing lewd tales and drinking whiskey with a variety of guests, ranging from authors and comedians, to musicians and porn stars. The 288 is available for your listening pleasure on iTunes, Google Play, and YouTube. The theme music for The 288 is performed by One Season.
Draven is now living in Los Angeles, and is represented by Society 15. Directors and producers can request her for solo, BG, GG, anal, IR, BJ, fetish, gangbangs, and feature dancing.
Follow Draven on Twitter and Instagram and rate her 5 stars on FreeOnes. Fans can show their appreciation for Draven by purchasing a gift from her wishlist and don't forget to visit doomdoll.com!
PR for Draven Star is exclusively provided through XXX Star PR. Follow us on Twitter @XXXStarPR or visit our official website, xxxstarpr.com. For interview or media inquires, please e-mail XXXStarPR@Gmail.com.