Silicone models often have a metal or PVC skeleton and can have interchangeable faces to alter their 'moods' 
Other owners prefer softer 'teddy babes' which have velour skin and are used for cuddling up to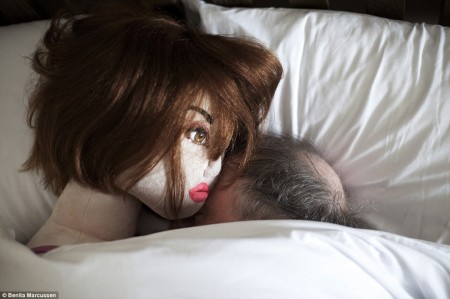 Sex mannequins
With their long glossy hair, heavy make-up and perfect skin, at first glance these glamourous women appear to make the perfect companions.
But look a little closer and their vacant stares give away the fact that they are in fact astonishingly realistic silicone love dolls, which sell for upwards of £1,000.
Their owners, who enjoy long-term relationships with the dolls, were captured on camera by Copenhagen-based photojournalist Benita Marcussen, who approached the men via online forums – one of the only places where many of them can be open about their dolls – and spent nearly a year gaining their trust before photographing them for her series Men & Dolls.
For some of the owners, the life-sized dolls are their sole companion, others are married with children, and in a few cases the dolls have filled the space left by lost loved ones following death or divorce.