From Huffington Post
CENTENNIAL, Colo. — A former Colorado sheriff known for his crusade against youth drug use had his bond slashed Monday from $500,000 to $50,000 in a case accusing him of offering meth to a man in exchange for sex.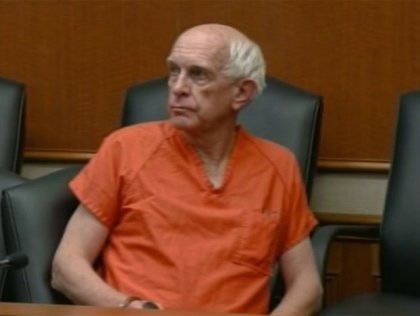 Authorities say Patrick Sullivan, 68, offered the drug to the man during a sting set up last week by a law enforcement task force.
Sullivan, the former sheriff of Arapahoe County who was once hailed as a hero for a daring rescue of two of his deputies, attended a hearing Monday where prosecutors told a judge that he had been charged with felony distribution and possession of meth as well as a misdemeanor charge of soliciting prostitution.
District Judge William Sylvester also heard arguments about reducing bail from defense attorney Kevin McGreevy, who cited Sullivan's nearly 20 years as sheriff along with his military service and a clean criminal record.
McGreevy also reminded Sylvester of the 1989 rescue of his deputies that he called one of many "moments of extreme valor."
"His public service is being used against him," McGreevy argued about the request by prosecutors for $500,000 bail. "Given the amount of good he's done, not just for Colorado but for Arapahoe County … (I ask) that his bond be reduced to $50,000."
Prosecutor Karen Pearson opposed the move, citing community risk.
Sylvester acknowledged Sullivan's clean criminal record while lowering bail and placing conditions on his release. Sullivan was forbidden from having firearms or consuming alcohol or illegal drugs, and from harassing witnesses or victims in the case.
Sylvester also granted McGreevy's request for a gag order to prevent prosecutors and law enforcement from talking about the case.
Sullivan appeared in court using a cane to walk. He wore an orange jail uniform and his hands were cuffed to a chain around his waist.
McGreevy and another defense attorney, as well as prosecutors, left court without comment. No family members or supporters were in the courtroom that was guarded by five armed deputies.
A preliminary hearing is scheduled for Jan. 31, when Sylvester will decide if enough evidence exists to send Sullivan to trial.
He has been in an isolation cell at the Patrick J. Sullivan Jr. Detention Facility, a suburban Denver jail named in his honor. Standard procedure for current or former law enforcement officials calls for them to be kept from the general inmate population for their safety.
Sullivan also is charged with attempting to influence a public servant by telling deputies that he was working for a drug rehab program when he tried to help three known drug users get groceries and complete paperwork in September.
State health officials, however, have said he didn't work for the program at that time.
Sheriff's officials said Sullivan has declined to grant interviews while incarcerated.
Sullivan was sheriff of the suburban Denver county from 1984 until 2002, when he retired. He was hailed as a hero following a daring 1989 rescue in which he crashed a vehicle through a fence to provide cover for two of his deputies who were pinned by gunfire. Sullivan was also named sheriff of the year by the National Sheriff's Association.
Current Arapahoe County Sheriff Grayson Robinson said last week that police talked to him about Sullivan in January as part of an investigation into an unsolved drowning. Robinson said a detective contacted him for insight into the personality of Sullivan.
Denver police refused to say whether they questioned Sullivan or what information they sought in the Jan. 26 drowning of 27-year-old Sean Moss.
An autopsy found that intoxication from meth and gamma-hydroxybutryic acid, a rave drug, contributed to the death of Moss.
Police spokesman Sonny Jackson said the case remained open because the coroner was unable to determine if the death was accidental, a suicide or homicide.
The Denver Post reported that Sullivan had posted bail for Moss after his arrest on Jan. 14 in a domestic violence case involving another man in Centennial, a suburb of Denver.