Heres a cool dude from Tennessee that likes to harass hotties on the fetish side of porn.. Hes a PWL guy who plays one side of his head against the other ..You would think with PWL gone he would stop, but nope..This is only the beginning with him..Maybe he will take this as a warning….


Michael Brubaker's signature was to play two sides at once; he posted as "Unregistered" to defend models just to post personal info and harass them later in the same thread.
This is exactly what he's doing on twitter with his @USnuke , @Agent_of_Chaos1 and @Internet_Mayhem accounts.
His Agent_of_chaos1 account even takes credit for taking PWL down; then his Internet_Mayhem account accuses Whiteacre of supporting PWL, etc.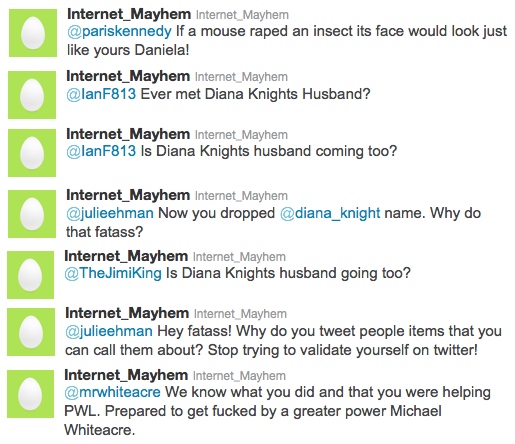 His calling card is that he will say something nice about a model on his @USnuke account, and then later that day he will open up another twitter account and call that same model ugly, fat or old, etc. He opened several twitter accounts adding "HIV" to a model's name in the past (those have been suspended for violating the twitter TOS).
__________________
"Mikey B" served in the navy, and also has used the email address michaelbrubaker@bellsouth.net. You can search for that email and see him posting on message boards devoted to a certain retired ship in the navy (where he received his nuclear training). He tells a story about how he broke both his elbows and couldn't go on a second tour.
Mike Brubaker currently works at the Sequoyah Nuclear Plant in Tennessee as a shift manager. He has a thing for fetish models, and a very short temper, and gets very angry very easily.
I wonder if his co-workers know that Mr Brubaker is a crazy creepy pervert?
All of the my Trolls who are bored feel free to play around with his info…We have some background on this guy but are waiting to see what he does next..