This story was taken from another site. I don't agree with them calling porn talent whores
source
Marcus Jordan learned a valuable lesson today on Twitter when ordering whores – double check to make sure you are DMing said whore. This morning, Jordan hit send on a tweet to some whore who goes by @xxxrachelroxxx.
The only problem was that he seemed to be telling Rachel that he had some serious cash for her. From the tweet it doesn't appear the two are related.
Roxxx, also known as Rachel C to her family, first began performing in explicit hardcore movies at age 23 in January, 2007. Roxx has several tattoos as well as piercings in her navel and both nipples.
Some of Roxxx's best known work:
• Tosh Porn Oh
• Panty Pops
• Big Tit Crackers 2
• Korporate Kougars
• Nutbusters
• My Sister's Hot Friend 9
Of course Jordan has plenty of money via his father's bank account. Looks like he doesn't blow it on stupid broads at the bar who might not put out. Might as well order up cheap porn stars.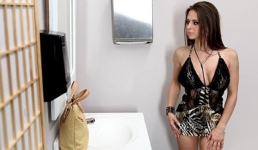 The tweet has since been deleted