With a dwindling readership and total lack of legit sources.. Mike South has resorted to doing what Mike South does best. Attacking and outing sex workers..

Mike "Not interested in outing anyone" South put the pictures of over 200 alleged escorts on his site..Of course he wants to you click it, don't give him the satisfaction.
Mike South, the guy who books escorts for his low end bukkake scenes then charges johns 100 bucks to cum on their face.. Mike South, the guy who strolls escorts forums, talking about picking up hookers and warning others when the cops are around..
Yea, THAT Mike South
Below Is A Post We Did Over A Year Ago. For those of you on mobile, click here as all the images wont show here
Mike South: Cruising For Streetwalkers and Soliciting Hobbyists For Bukka
A stunning series of posts on an Atlanta, Georgia escort board from 2002 to 2013 underscores the hypocrisy and disingenuousness of the guy who screams that Los Angeles' talent pool has too many escorts for him to want to work with them
Just when you thought the revelations about Mike South, the adult producer caught shooting without STI tests or condoms, couldn't get any more horrifying comes these stunning posts on the escort "hobbyist" board, USASexGuide.
As you read through South's exchanges with fellow "mongers", keep in mind they were written by the same man who wrote this:
I am and always have been condom optional….I leave it to the performers. That said would I work in the LA talent pool with no condom? not just no but HELL no, no way…too many escorting females, too many crossover males and testing protocols that would pass an HIV positive person on anti-virals and way too many chances for multiple exposures between tests.

I shoot in a VERY closed loop, I'm way more comfy with that than I am with LA based talent. This bullshit about "I'd rather do an LA performer than some random person in a bar["] is stupid, it is a FACT that STDS are WAY more common within the LA Talent pool than they are in the standard population, specially here in Atlanta.

HIV gets all the attention but in reality its only the most visible of a LOT of STDs that do long term damage or kill you, most of which we don't even test for…
South shaming sex workers on his own gossip blog, August 29, 2011
And this:
The first post is dated May 22, 2002:
"THAT Mike South" — he's a legend in his own mind…
Here's Mike South cruising "the strolls" for SWs (streetwalkers):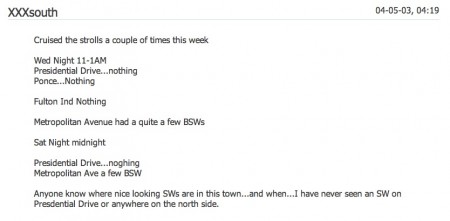 "Anyone know where nice looking SWs are in this town"
As far back as 2003 South was conscious of the fact that he was using Craigslist escorts in his videos:
More cruising for streetwalkers. For a famous pornographer, he sure seems to have a hard time getting laid.

A classic — South's grammar and punctuation had to be corrected by the editor of a hobbyist board:
South recommending a local swingers club:
South offers to assist a hobbyist in reaching an escort he knows —

Kinda looks like Axel Braun was spot on with this tweet, huh? —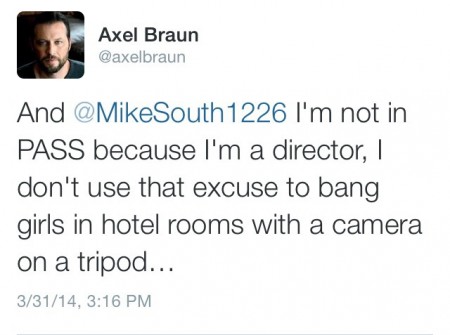 Back to South's posts on USASexGuide…
Here's an old familiar Mike South refrain: he knows everything that's going on:
After some time Under the Radar (UTR) South pokes his head back up — to acknowledge a back page escort he's shot, and to solicit hobbyists to work as mopes in his bukkakes:
"Shooting Taylor Luxx sat night blowbang / bukkake anyone who wants an invite should contact me. You DO have to have a current HIV test, sign a model release and be 18+ obviously. Guys faces arent shown though."
Once again, as first reported by TRPWL, South makes it clear that the ONLY requirement for appearing in one of his videos (other than being over age 18) is an HIV test. NO OTHER STIs ARE TESTED FOR.
As numerous performers have confirmed, the test South utilizes is a cheap, store-bought at home HIV swab test, with a lengthy window period, NOT an industry standard PCR test.
The next day we learn that hobbyists have actually taken South up on his offer to appear in his videos:
"Don't know if you like the environments at Mike get togethers, I have done a few in the past," one writes
More from 2012: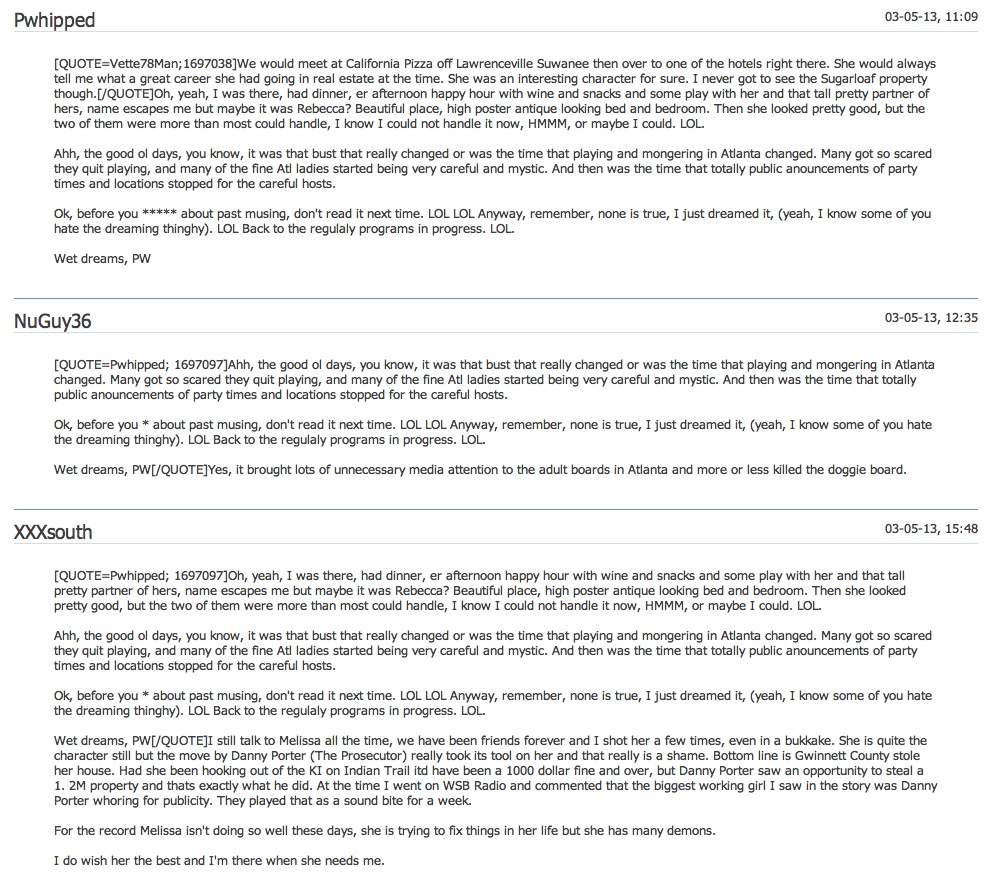 This is funny — after 11 years, South still can't play by the rules (sound familiar?):
June 2013: once again, South solicits hobbyists for bukkake video participants

Tell me again why ANYONE would ever listen to a word Mike South has to say about shooting standards or performer health and safety…
Mike South: Cruising For Streetwalkers and Soliciting Hobbyists For Bukkakes
Links to assorted USASexGuide posts:
http://www.usasexguide.info/forum/archive/index.php/t-4403-p-48.html?s=48f48fdfe0efc2089f98d775343ad90e
http://www.usasexguide.info/forum/printthread.php?t=109&pp=15&page=35
http://www.usasexguide.info/forum/printthread.php?t=4403&pp=15&page=791
kes