This guy man..In his quest to regain the "top" spot has resorted to reporting news that is a year old..Last year, TRPWL broke the Clover-Morgan Lee AVN story..In fact its been exactly 1 year since we when to press on that..Since that story, Clover has been sentenced and is now out and from all reports doing well..
South's "sources" are obviously at it again, pulling the wool over his eyes and making him look like a fool. It has to be them since Mike has never made a mistake in his life..He's the greatest blogger ever and will remind us all when hes quoted in a GQ article about Manwin..LOL Of course like 8 people turned that piece down first, but not Mike..His Bukkake future depends on the death of Manwin..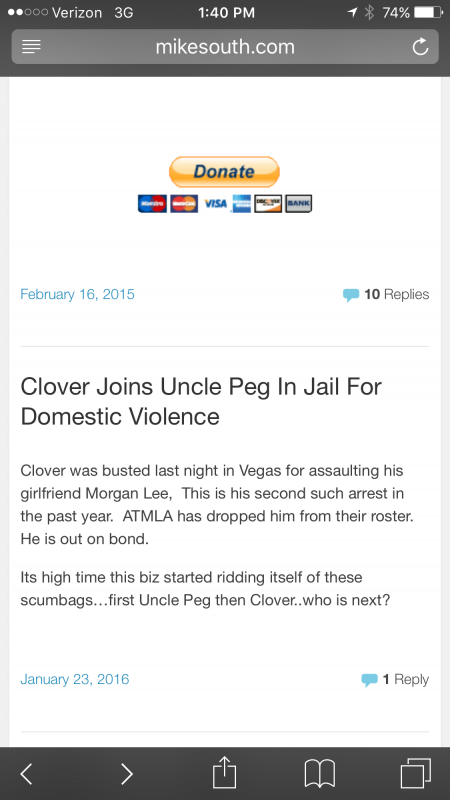 Gee, Maybe there's another dude named Clover, and he dates a different Morgan Lee, possibly even a second ATMLA agency.  Morgan has no clue what Mike's talking about and Clover got dropped from ATMLA last year..But then, Mike is the same guy who, after KINK sent out a press release talking about cutbacks, went to press 3 days later saying his "sources" told him Kink was cutting back..
It will interesting to so see how long he keeps this Clover post up, he knows its not true, or at least the way he's telling isn't true.  But, like the snake bite story he ran, the truth takes a back seat to clicks.  He even admitted the snakebite story wasn't correct, but here we are 19 months later and its still up..
In case you're wondering, of course you can believe Mike when he says he's the reason Diane Duke resigned from FSC..LOL
About 30 mins after this post went up super blogger Mike South removed his breaking 1 year old Clover story..Hey Mike, don't forget to the delete the tweets. then it will be like it never happened HAHA
For More Great Mike South Stories Click Here