It has been a year since AVN Nominee Alia Janine retired from Porn but she is far from out of the public eye.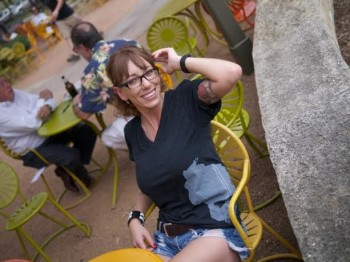 A Wisconsin native, Janine has become the latest blogger for onmilwaukee.com , a 2012 EPPY Winner and mainstream news site covering all things Milwaukee.
Janine intends to use her knowledge, experience and the skills she has acquired in her current psychology studies to talk about relationships, sex, strippers, porn, and everything else taboo from an unbiased point of view from someone has walked through the trenches of the Adult Entertainment Industry for over 10 years.
In addition to writing her blogs, Janine will also be doing a podcast as well. Her first guest is fellow Milwaukee Native Gareth Reynolds, famous for his work on the hit TV show Sullivan & Son, as well as Sam Tripoli's The Naughty Show and also the Travel Channel.
Janine's first blog entitled " 7 Stereotypes About Strip Clubs & Strippers " was published on onmilwaukee.com February 3rd and gained popularity fighting it's way to the front page of the major local news outlet. Her writing covers things that people secretly want to know about but are afraid to ask and she addresses it in a fun, lively way but also from a psychological and sociological standpoint.
Janine will also be a guest on Mika Tan's Sirius XM radio show on channel 102 on Monday, February 17th at 7:30 to talk about her first blog and the stereotypes of strippers and strip clubs.
Fans can follow Alia Janine on Twitter