In celebration of Independence Day, the ModelCentro team is excited to announce its Independence Day Referral Contest. Per the ModelCentro referral program, models who suggest the ModelCentro platform to others earn 10% of ModelCentro's earnings for each model referred, for a lifetime. And now with the Referral Contest, the 3 models with the most referrals in the month of July will each receive a $100 Amazon gift card.
To qualify for the $100 Amazon gift card, the referrals of the model participating in the contest must register using that model's referral link. The referral link is easy to remember – "ModelSiteURL/signup." The long link can be found on the ModelCentro admin homepage, under the "Me" tab in the top menu and then the "Referral Program" tab in the left menu. This page can also be used to check who signed up under a model's referral link.
The winners of the contest will be announced on Tuesday, August 4th, 2015 on the ModelCentro blog – http://modelcentro.com/mc-blog.
The ModelCentro platform gives models the freedom to run their own business by providing all the necessary tools needed to create, launch and manage a website. Without having to worry about webmasters, programmers, hosting and billing, models can focus on creating exclusive content and promoting their brand. The platform includes intuitive tools and functionalities to successfully manage their membership site with features such as a free domain name, a customer support team, easy content updates, social media integration, and more.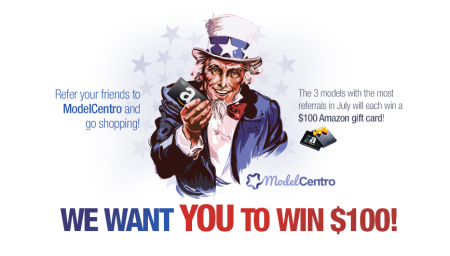 "ModelCentro prides itself on offering models independence, and this contest encourages ModelCentro models to share that independence with other models. The ModelCentro team loves hosting contests and rewarding models for their participation!" said Natalie Pannon, Head Sales and Marketing Manager, "Models, spread the word to your friends and you could win a $100 Amazon gift card!"
For more information, visit http://modelcentro.com/mc-blog/21546, Modelcentro.com, or contact sales@modelcentro.com.