San Francisco – If you enjoy a little bit of religious imagery with your smut, you are in for a treat, as Kink.com's Whipped Ass just released a daring new scene. Starring Mona Wales, Charlotte Sartre, and Helena Locke, this scene will have fans saying their prayers every night and thanking the higher power for this unholy trinity. The scene became available on Thursday, and is already wildly popular.
In "Anal Initiation: Aspiring Nun Gets Beaten & Fucked", Charlotte is a young girl who wants to be a nun, so she visits a convent. Sister Mona and Sister Helena can tell right away that Charlotte is a sinner. In order for Charlotte to be a nun, she must take the initiation Mona and Helene have in store for her. First, they must cleanse Charlotte of her sins and demons, and the only way to do this is to spank, whip, and beat the demon out. Charlotte's demons are strong, so they both try to smother it by sitting on Charlotte's face. Mona and Helena get their strap-ons, and penetrate Charlotte's holes, until they are sure the demons are gone. The final test is an anal fisting that Charlotte takes with ease.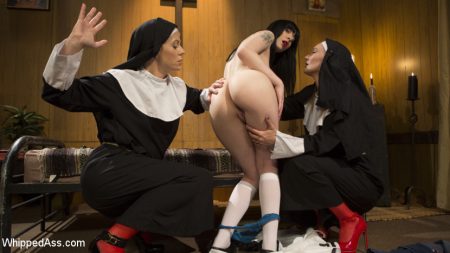 Follow Mona on Twitter, and book her direct at monawalesxxx@gmail.com. She will be available in LA June 6th-11th, June 18th-24th, and the week of July 24th.
Follow Charlotte on Twitter, and book her direct at booking@charlottesartre.com for just about everything.
Follow Helena on Twitter, and book her direct at ladominahelena@gmail.com for BG, GG, IR, fetish, and more.
PR for Mona Wales, Charlotte Sartre, and Helena Locke is exclusively provided through XXX Star PR. Follow us on Twitter @XXXStarPR or visit our official website, xxxstarpr.com. For interview requests or media inquiries, please e-mail XXXStarPR@Gmail.com.