A mother and her daughter have been arrested for a second time on prostitution charges after they advertised two-for-one sex deals on Backpage listings website, police said today.
Ramona 'Jazmine' Ramoutar, 43, and Daniella Eshtie 'Angel' Sinanan, 24, from Palm Beach, Florida, posted pictures and advertised specials under the adult entertainment section of Backpage.com.
Neighbors complained last month about what was going on at their home and officers began watching the apartment in a month-long investigation.
They stopped a client leaving on July 18 and he told them he had just paid $100 for sex with the mother/daughter duo.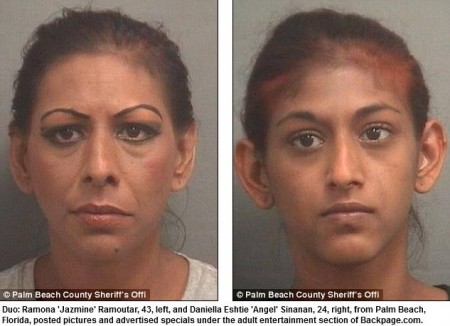 On July 24, an officer called the number listed on the Backpage ad and arranged to have sex with the women, who advertised themselves as Jazmine and Angel, for $160.
The next day, the undercover officer went to the apartment and arrested the pair after they admitted they were planning on having sex with the caller for money, according to the Sun Sentinel.
They were later released on bail but had to be arrested AGAIN on Tuesday after police discovered they were back to their old tricks.
Officers also found a glass pipe and needles in the apartment.
Ramoutar has seven prior arrests since 1999, including domestic battery, aggravated assault, DUI and unlawful possession of prescription drugs.
Her daughter has three prior arrests since 2011.
Police spokeswoman Stephanie Slater said of the arrests: 'We don't believe it's a case of human trafficking. What this appears to be to us is a case of two people who have a drug addiction and are participating in illicit activity to support their drug activity.'
Source