VENICE, CA – The big releases connected to Mick Blue continue to roll out, featuring the Male Performer of the Year working both as a performer and as a director.
In recent weeks two Mick-directed titles have been released: School Girls Love Monster Cocks (3rd Degree) became available last week and Mick's Anal Teens (BAM Visions) came out the week before.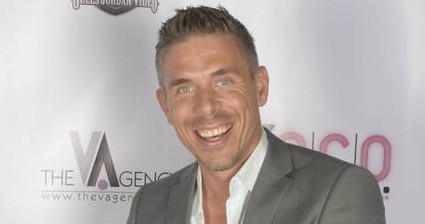 One of his biggest scenes of the year released this week with Mick having the honors of being the first guy to get Riley Reid in a boy/girl anal scene. It was released this week on the www.Tushy.com website. It's part of a Riley showcase movie. Look for Being Riley
"Riley is very good friend of mine and when I got the call to do her first BG anal for her showcase movie I was extremely excited and nervous at the same time because I knew how huge it was," Mick said. "Greg Lansky is an amazing director and friend and he created a wonderful atmosphere for us to do this mind-blowing scene together. I truly am a super lucky bastard to have had the honor to work with Riley on this very important project. She was phenomenal and we did even more anal than planned because we enjoyed it so much. She is an outstanding person as well as performer and everybody should follow her blog www.reidmylips.com."
This week there are also four DVD releases that feature Mick working with some of the biggest performers and for some of the biggest companies in the industry. His illustrious new release list for the week looks like this:
Aug 17: The Sexual Desires of Bonnie Rotten (New Sensations)
Aug 19: Asa Akira: Wicked Fuck Doll (Wicked)
Aug 19: Anal Beauty (Tushy.com)
Aug 20: The Twenty: The Young Ones (Digital Sin)
"I am honored to work with so many amazing and beautiful women," Mick said. "It is all a dream come true and all of these titles show me working with some of the biggest names in the industry. They are all incredible!"
The Mick-directed School Girls Love Monster Cocks stars Riley Reid, Megan Rain, Elsa Jean and Jenna Reid. More information can be found at http://3rddegreepress.com/school-girls-love-monster-cocks/.
Mick's Anal Teens was released by his latest venture, BAM Visions, a company formed by Mick, wife Anikka Albrite and Maestro Claudio. This is the company's second release. Go to www.evilangelvideo.com/director/49/Mick-Blue-&-Maestro-Claudio/ for more information.
The 2015 NightMoves Awards will be held Sunday, Oct. 11 at the Tampa Gold Club. For more information go to http://www.nightmovesonline.com/21st-annual-nightmoves-awards-show/nightmoves-awards-weekend-schedule/. Vote for Mick at http://nightmovesonline.com/voting/index.php?sid=82189&lang=en.
To book Mick contact him directly at mickbluebookings@gmail.com. Follow him on Twitter (@mickbluexxx) and check him out on Instagram (@mickbluexxx). For everything Mick go to http://risingstarpr.com/clients/mick-blue/.