From
WoodRocket.com
, the popular adult comedy website behind the web hits, Game of Bones, James Deen Loves Food, and SpongeKnob SquareNuts, comes a September full of web series, specials, and porn parodies that will be talked about for months to come.
The month begins with a sexy space spoof of the hit cartoon series, Futurama: F**karama. Imagine a photo collection capturing beautiful female models getting into costumes and parodying Leela, Fry, Bender, Amy, Zapp, and even the lobster-like alien, Zoidberg. Now imagine them without clothes. No need to, they're already naked in F**karama, available to view now only at WoodRocket.com!
Do you like Cosplay? Do you like comedy? Do you like hilarious parody of Japanese television shows with talking furniture and magical costumes and a cartoon ninja squirrel and weird guests and surreal sexiness? Well, you can find it all in the brand new scripted comedy web series, Sexy! Fun! Yes! hosted by Vuko (Nicolas Cage Sex Party). The first episode features an Adventure Time theme and will be available only on WoodRocket.com on September 8th.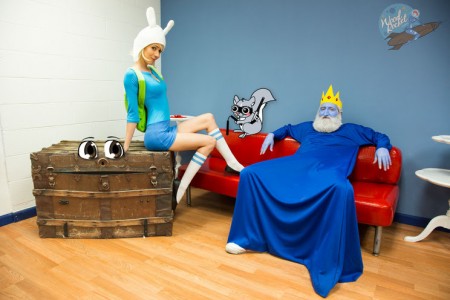 James Deen (The Canyons, porn) celebrates breasts the only way he knows how, with a brand new adult web series called, T**y Tuesday! It's funny! It's hardcore! It's full of James Deen and boobs! The first episode of T**y Tuesday will be available on September 9th only on WoodRocket.com.
If you want to see more food porn, James Deen whips out his apron and gets ready to have fun with food in the much anticipated return of the hit series, James Deen Loves Food with all new episodes beginning on September 24th. Watch James tackle the biggest challenges of his food-loving career as he throws a cat birthday party, dives into a swimming pool filled with cereal, eats the ugliest cake in America, and other food-ventures.
Throughout the month of September, WoodRocket.com has all new porn parodies, specials, adult content, and episodes of Road Strip, Topless Girls Reading Books, Show & Tell, The Porn Set, and more.
And it is all FREE! Catch the latest, funniest, sexiest, and pop-culture-iest entertainment all month long, only at WoodRocket.com.
WoodRocket.com is your source for free comedy & adult entertainment. With thousands of high quality adult movies like Doctor Whore and Game of Bones and Porks & Recreation, photo galleries like They Live Naked and Nicolas Cage Sex Party, and original web series like "James Deen Loves Food", "Topless Girls Reading Books", and "Stoya Does Everything", WoodRocket.com has been featured on Gawker, Gizmodo, The Hollywood Reporter, Jezebel, Esquire, Bon Appetit, Vice, Fleshbot, and more. WoodRocket.com's Game of Bones and The Knobbit parodies were even trivia questions on the highly acclaimed Comedy Central show, @Midnight