New Sensations announces the release of "Almost Relatives," an outrageous new dramedy written and directed by Jacky St. James for the acclaimed series, "Tales From the Edge." Hot newcomer Karla Kush toplines the feature as an unfaithful bride-to-be enjoying a heated affair with her betrothed's best man.
"Weddings can make even the most normal people a bit crazy, but what do they do to people that are already a bit nuts?" Jacky St. James said. "'Almost Relatives' brings together a group of unscrupulous characters on what should be a very special wedding day and shows us what happens when morality and romance are thrown out the door in favor of illicit fun and forbidden sex."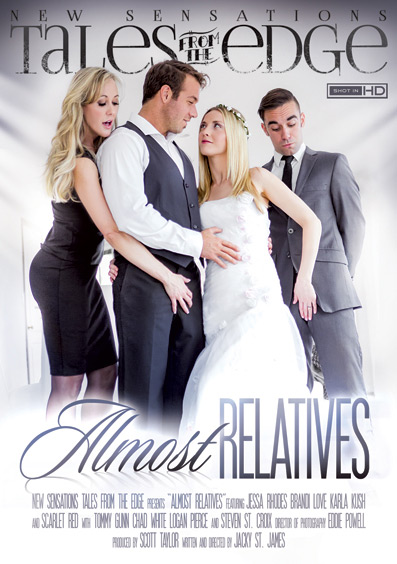 "Almost Relatives" stars Karla Kush and Chad White as an engaged couple experiencing an extreme case of wedding day jitters. Karla is falling for best man Logan Pierce, who vows to keep loving her regardless of her marital status. It's the kind of thing that would devastate Chad if he weren't already banging Karla's mother, Brandi Love. Adding to the marital mayhem are sexy and shameless bridesmaids Jessa Rhodes and Scarlet Red, adulterous father-of-the-bride Tommy Gunn, and immoral minister Steven St. Croix.
"Tales From the Edge: Almost Relatives" has a runtime of 122 minutes and includes an exclusive photo gallery and a candid Behind-the-Scenes featurette.
To view the trailer for "Tales From the Edge: Almost Relatives," click here.
"Tales From the Edge" explores themes and relationships rooted in the traditional, but often taken to the extreme and taboo. The series launched in September with the release of the 2015 XBIZ Award-winning title, "I Love My Hotwife" (Best Scene – Vignette). Additional releases include "Boss Fantasies," BDSM vignette "Restraint," and the hotwifing movies "My Hotwife's Lover" and "A Hotwife Blindfolded."
"Tales From the Edge" is a companion series to Digital Sin's 2015 AVN Award-winning "Tabu Tales" (Best New Series).
About New Sensations / Digital Sin: New Sensations / Digital Sin is a worldwide leader in adult film production, committed to creating and producing high end erotic content in a variety of genres. The studio has received multiple awards and worldwide acclaim for a variety of titles ranging from dialogue-driven features to all-sex releases. Its Romance Series, which includes such popular films as "Second Chances," "Lost and Found," and "The Friend Zone," went on to inspire the creation of The Couples Series, The Erotic Stories Collection, and The Swingers Series. The Couples Series' film "Torn" and The Erotic Stories Collection's "The Submission of Emma Marx" remain two of the studio's most highly decorated films to date, with both national and international award recognition. New Sensations/Digital Sin is also known for bringing feature-quality, filmic style to their vignette series with "The Innocence of Youth" and award-winning "Tabu Tales" being some of its most lauded releases.
To view the latest information about all New Sensations titles, visit New Sensations, The Romance Series, Tabu Tales,Twitter, or YouTube