VENICE, CA – The name Harriet Sugarcookie is probably new to you, but that only happens once. She, like her name, is unforgettable.
She's been remembered lately by some very important people, namely the editors at Adult Video News, who nominated her HarrietSugarcookie.com for Best Solo Girl Website for the 2015 AVN Awards.
A British girl of Asian heritage, Harriet is relatively new to the industry, She started by posting a few pics on Reddit and steadily progressed until she was telling the world and showing the photos and videos of just about everything she does, from dinner to having sex and all things in-between.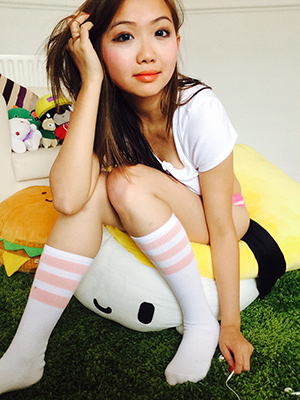 "And now I'm nominated for an AVN Award!" an excited Harriet said from London early this week (and very early in the morning for Porn Valley folks). "It means I have some really amazing friends and fans out there. I remember when they casually mentioned it and I never thought I actually had a chance to be nominated. I'm up against girls who have been in the industry for far longer than me. They really seem to know what they're doing. I'm up against professionals!"
Harriet may be new, but she knows what she's doing. She is clearly a natural at putting together a website as she is sharing her entire life in front of the camera. For fans who know her from her shows on MyFreeCams, they know that she is one of the sweetest and most attractive models camming today.
Many of those fans have sought her out on the internet and found her AVN Award-nominated site, which proclaims that she is "genuinely amateur and genuinely an 18-year-old British teen." They have also found a site where the membership is free (maybe she really is an amateur!) a young star-in-the-making who just loves to share.
Harriet is the only British camgirl nominated this year and she plans to be in Vegas for the awards show and Adult Entertainment Expo in January.
"I can't imagine myself winning," the modest Miss Sugarcookies says. "I mean, I don't really know what I'm doing! But it should be one hell of a party. I can't wait to rub shoulders with all those beautiful porn stars that I've only ever seen on screen. It will be like stepping into my wildest fantasy!"
This week she is giving away a free VIP membership. Go to http://harrietsugarcookie.com/2014/11/competition-win-free-months-vip-membership-website/ for details.
Harriet Sugarcookie is represented by Rising Star PR. Visit her website at http://harrietsugarcookie.com. Follow her on Twitter (HSugarCookie). For everything Harriet go to www.risingstarpr.com.