NEW YORK — The lawyer for a police officer whose name has come up in connection to the investigation of an accused multimillion-dollar madam says his client has no idea how any such link could exist.
Sgt. Richard Wall has been ordered to give internal-affairs investigators his work log for the past five years after someone reported he had been to the Upper East Side apartment building where prosecutors say trysts arranged by accused madam Anna Gristina happened.
Wall's lawyer said the best way to describe Wall is bewildered.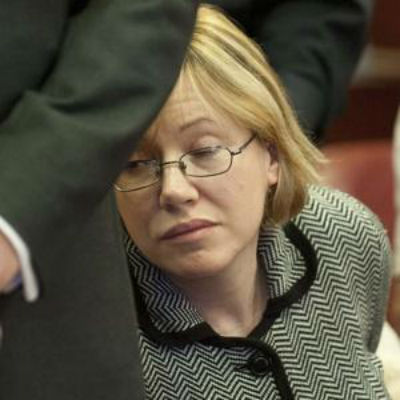 "He's bewildered that he's even linked to this story," attorney Andrew Quinn said. "We honestly don't know how that happened."
Quinn added that Wall has "no involvement with this woman and with this allegation." He said that, as far as he knew, Wall was not under any criminal or administrative investigation.
Gristina remained jailed on $2 million bond, but "her spirits are high," said one of her lawyers, Peter J. Gleason.
Gristina, a 44-year-old suburban mother of four, has pleaded not guilty to promoting prostitution, a low-level felony. Her lawyers say she was working on building an online dating service and has been hit with wrongful and unfair allegations.
Prosecutors say Gristina was heard during a five-year investigation saying she'd made millions of dollars over about 15 years by running a Manhattan prostitution ring and claimed to have law enforcement connections who would tip her off if she was about to get in trouble.
No police officers have been charged in the case.
An alleged accomplice of Gristina's remained at large Wednesday. Meanwhile, the identity of another figure in the tale emerged: the Morgan Stanley employee who had a business meeting with Gristina and who was present when she was arrested shortly afterward, prosecutors said.
Police and the Manhattan district attorney's office declined to comment on the case surrounding Gristina and a not-yet-arrested co-defendant, identified in news reports as Jaynie Baker.
Baker was until recently listed as the recruiting director for VIP Life, a high-end matchmaking service.
Founder Lisa Clampitt said Baker, a social butterfly and "really sweet gal," was a freelancer who never referred a client or was paid during the six months she was associated with VIP Life. She said she'd been unable to reach Baker in recent days.
No phone number could be found for Baker, and an email sent to her through a social networking website was not returned.
Gristina, a legal U.S. resident originally from the Scottish Highlands, lives on a 12-acre property in Monroe, about 50 miles north of New York City. She rescues animals, helping abandoned pet pigs find new homes, and is a former real estate broker, according to her lawyers and their investigator.
Gleason said Gristina aimed to set up a matchmaking service for upscale clients.
Prosecutors have said that when she was arrested Feb. 22 on a midtown Manhattan street she had just come from a meeting at a friend's Morgan Stanley office. She was trying to raise money for a new venture, which authorities believed might be an online prostitution business, Manhattan Assistant District Attorney Charles Linehan told a judge on Feb. 23.
The friend was David S. Walker, a financial adviser for Morgan Stanley's money management arm, Morgan Stanley Smith Barney LLC, a person familiar with the matter said Wednesday. The person spoke on condition of anonymity to discuss details the person was not authorized to release.
Walker, whose name was first reported by Fox Business Network, hasn't been charged with any crime. Messages left at Walker's office and a possible home number for him were not immediately returned.
Walker told the news website DNAInfo that he had known Gristina for several years but never had any business dealings with her. She knew "plenty of other people at Morgan Stanley," he told the site.
Morgan Stanley would say only that it was looking into the matter.
Linehan, the prosecutor, told a judge on Tuesday that Gristina had a roster of wealthy clients and friends who "have an interest in not having this case go forward" and could help her flee.
Prosecutors have said some of the trysts Gristina arranged involved minors, though Linehan told a judge last month he didn't know how old they were.
Gleason has stringently denied Gristina had any dealings with underage girls. On Wednesday, he called the allegation "a disgusting, deplorable ploy" to subject Gristina to hatred from her fellow jail inmates.
"Inmates will turn against another inmate who has been charged with crimes against children," said Gleason, a former police officer.
Gristina is due back in court on May 3. If convicted, she could face up to seven years in prison.
Source Huffington Post