It's not just ScarJo and U.S. Senators who are sexting nowadays. One in five Americans say they have sent sexually explicit text messages from their smartphones. Boomers are slightly behind the curve — just 10 percent of those age 55 or older admit to sending or receiving racy photos on their phones, according to a survey by Harris Interactive for Lookout, an Android app.
Just 3 percent of Americans say their biggest worry about losing their phone is that someone might discover their inappropriate photos or messages — which, considering that 69 percent of smartphone owners have lost their phone, is pretty low.
The good news for Anthony Weiner and other sexters, however, is that the need to post naked photos of yourself may actually be a primal urge. Wired.com reports that "research has unveiled two distinct explanations: Female exhibitionism appears to be primarily cortical, while male exhibitionism is mainly subcortical."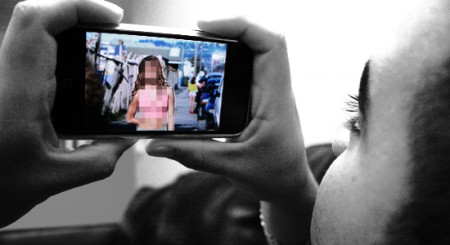 We guess the big difference though is that the cavemen and women didn't have smartphones to enable them. Here are some suggested tips from Lookout for protecting yourself from, ahem, exposure:
1) Download a free app — the nice folks at Lookout suggest you check out theirs — that helps you find your phone when you misplace it or allows you to remotely lock it and wipe out your photos and contacts if your phone falls into the wrong hands. We want what happened in Vegas to stay in Vegas, after all.
2) Turn-off your text message pop-ups, so people nearby don't get a peek at any photos or texts you don't want seen.
3) Set a strong passcode and change it often. Password protect is the first and best defense for keeping prying eyes out of your personal business.
Source: Huffington Post