Dont you hate it when a politician who looks like he jacks off in the closet to Good Housekeeping proposes a bill that deep down inside he hates???
No happy hours at topless clubs for you — not if State Rep. Steve Court, R-Mesa, has his way.
Court, the Legislature's majority leader, introduced a bill today that targets strip clubs and other adult-oriented businesses with a ban on alcohol and private rooms. The proposed law also aims to regulate the size of stages, redefine the terms "nude" and "seminude," and forces other changes for adult establishments.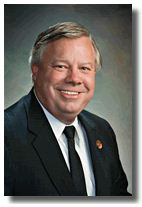 Court tells New Times the idea for the bill was brought to him by groups interested in "maintaining decency in the community."
The Center for Arizona Policy, which often lobbies on religious or anti-abortion matters, was one of those groups, he says.
The bill hasn't been assigned to a committee yet, and Court isn't sure how much support it might have.
"This is kind of our first pass at this," he says. "We'll see how it goes."
The language used in the bill is similar to laws in other states that have already passed constitutional muster, he adds.
Court admits he has no idea whether the issues addressed by the bill are actually problems.
He has "no personal knowledge or experience" with such places, so he can't comment specifically on why the adult industry needs these changes, he says.
Oh, well — who really needs meaningful laws that address society's many real ills?
What counts, obviously, is keeping the puritans happy.
Here's how Court's rated-R bill would define "nude:"
The showing of a human's genitals, pubic area, vulva or anus with less than a fully opaque covering or the showing of the female breast with less than a fully opaque covering of any part of the nipple and areoloa.
The proposed definition for "seminude" is even more fun — and Court makes sure that his law won't affect one of every guy's favorite kinds of eye candy: Cleavage.
Seminude or seminudity means: The showing of the female breast below a horizontal line across the top of the areola and extending across the width of the breast at that point or the showing of the male or female buttocks. Seminude or seminudity includes the lower portion of the female breast but does not include any portion of the cleavage of the female breasts exhibited by a bikini, dress, blouse, shirt, leotard or similar wearing apparel if the areola is not exposed in whole or in part.

http://blogs.phoenixnewtimes.com/valleyfever/2012/02/rep_steve_court_proposes_alcoh.php