The porn industry have come out fighting against Rick Santorum's recent pledge to crackdown on 'hardcore' pornography if he is elected.
Porn stars and film company executives are railing against the Republican presidential candidate and have dismissed his proposed pornography ban as a ploy to pull in votes.
Industry insiders have argued that making hardcore pornography illegal would be an infringement of free speech and would threaten their livelihood in already economically tough times.
This week Santorum demanded a crackdown on the distribution of internet porn, argued for tighter controls of sexually-explicit material on television, hotel pay-per-view systems, and adults-only stores.
The socially conservative candidate writes on his website that 'America is suffering a pandemic of harm from pornography.'
'It is toxic to marriages and relationships. It contributes to misogyny and violence against women. It is a contributing factor to prostitution and sex trafficking,' the website says.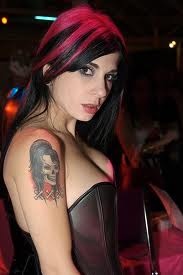 Steven Hirsch, founder of the L.A.-based porn industry behemoth Vivid Entertainment, decried the idea as 'ridiculous', reported the Daily News.
Hirsch believes that outlawing pornography could not happen, saying that 'legislating morality never works.'
Porn star Ryan Keely agreed that the controversial industry would never be successfully shut down.
Keely told the Daily News that Santorum's crackdown on porn was 'clearly an attempt to excite his conservative base.'
Santorum launched his proposal this week writing on his website that he would order his attorney general to 'vigorously enforce' existing laws that 'prohibit distribution of hardcore (obscene) pornography on the Internet, on cable/satellite TV, on hotel/motel TV, in retail shops and through the mail or by common carrier.'
'The Obama administration has turned a blind eye to those who wish to preserve our culture from the scourge of pornography and has refused to enforce obscenity laws,' he writes.
'While the Obama Department of Justice seems to favor pornographers over children and families, that will change under a Santorum administration.'
Joanna Angel, who has starred in various blue movies and owns XXX-film production company Burning Angel Entertainment, told the Daily News that the proposal was 'infuriating'.
Angel, 31, said her business was legitimate, that pornographers were not trying to hurt anyone and protested that the government should be concentrating on the economy instead.
'At this point- we're all just trying to keep our jobs. We are already hurt economically by not being allowed to be sold on iTunes, Netflix, or Amazon – do you really need to threaten to take away the few areas of distribution we have left?
'I wish people would stop seeing us as immoral monsters, and understand that we struggle with the same problems lots of other Americans struggle with right now,' she told the Daily News.
Santorum's battle against the adult industry comes in the same week that the presidential hopeful caused controversy telling Puerto Ricans they would have to make English their primary language if they want to pursue U.S. statehood.
Read more: http://www.dailymail.co.uk/news/article-2116387/Outraged-porn-stars-dismiss-Santorums-ridiculous-pledge-banish-porn-ploy-win-votes.html#ixzz1pPFR1H5s