It's hard to imagine, but Paris Hilton is still getting mileage out of her sex tape.
Paris Hilton has taken action against a porn site in Slovenia that is selling clips of her infamous sex tape.
The 32-year-old socialite has filed a complaint against Slovenian operators of the website ParisHiltonPornVideos.com, who are featuring excerpts from the video titled 1 Night In Paris.
Hilton is asking for the website to be closed down and to take ownership of the domain name.
The heiress filed her complaint with the World Intellectual Property Organization Arbitration and Mediation Center, according to an article on Sunday by TMZ. The international group oversees disputes involving domain names with trademark or copyright issues.
Hilton filmed the sex tape in 2001 with former boyfriend Rick Salomon and it was released just before her show The Simple Life with Nicole Richie began airing in December 2003.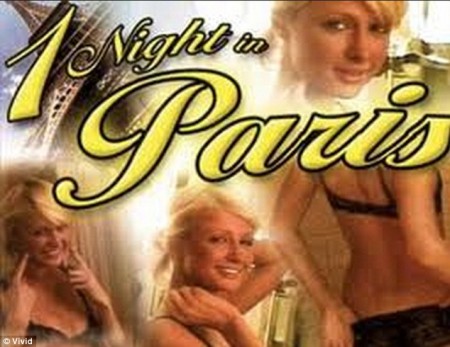 The graphic sex tape video was filmed using infrared night vision and featured Hilton stopping the action to answer her ringing cell phone.
The video was purchased by Vivid Entertainment and is available on their portal site.
Hilton has been on an international tour lately and shared a photo on Instagram on Sunday showing her with boxer Manny Pacquiao after his bout in Macau.
The jet-setter last week was at the Storm Electronic Music Festival in Shanghai, China.
She's been accompanied on her international trip with her 22-year-old boyfriend River Viiperi.
Hilton was in Shanghai to perform as a DJ at the music festival.
The celebutante recently released her new pop tune Good Time in an attempt to revitalize her musical career.