Penthouse Magazine will play host to Peep Show, a night of onstage entertainment, featuring stars of comedy, racy burlesque performers and Penthouse Pets, taking place in the main room of the world famous Comedy Store in West Hollywood, Thursday, December 18 at 8:00pm. 
The 21 & over event, hosted by Luenell, will spotlight the standup talents of show headlining acts Anthony Jeselnik (The Jeselnik Offensive, Comedy Central Roasts, HBO) and Russell Peters (Comedy Central, HBO, Showtime). Other performers include Ian Edwards (Blackish, Conan, 2 Broke Girls) and Jesus Trejo (Adam Devine's House Party, Sullivan & Son) and DJ Dougg Pound (The Eric Andre Show, Tim & Eric, Portlandia).   Sultry blondes Mosh and Angela Sommers will headline the burlesque festivities, with more performers to be added to the bill. In addition co-sponsor Pabst Blue Ribbon will supply the all-night drink specials.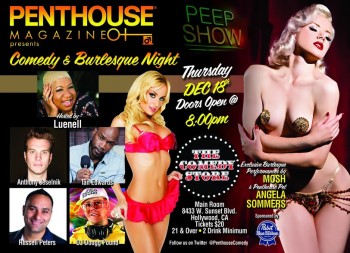 "Nothing says entertainment like a room full of comedians, burlesque artists and Penthouse Pets," says Kelly Holland, Managing Director, Penthouse Entertainment. "Penthouse adds sex appeal to any party, but really, besides Penthouse Pets and burlesque dancers, what's sexier than funny people? We look to make this a monthly occurrence, deliver big names in comedy and burlesque and feature them in an intimate environment."
The Comedy Store is located at 8433 Sunset Boulevard, West Hollywood, California, and doors open at 8:00pm. Admission is $20 with a two drink minimum.
For more information, please visit the Comedy Store's site or go to hollywood.thecomedystore.com/event.cfm?id=356186
Penthouse, which will celebrate its 50th anniversary in 2015, was founded in England by Bob Guccione in 1965 and brought to the States in 1969, the first issue of American PENTHOUSE sold out in a matter of days. England's controversial magazine of beautiful women, intelligent journalism and intimate revelations had arrived.
The covers of PENTHOUSE Magazine include celebrities and beautiful, art-inspired photography which chronicle the libido of a changing nation and the pop culture which helped shape it.
Made famous worldwide for its fearless approach to sexuality and its unabashed support of those rebelling from the norm and defining their own identity, Penthouse stands as the greatest men's brand in history.
PENTHOUSE ~ "Enjoy the view."