A Drexel University law professor is under internal investigation after emailing her students a link to a pornographic video, school officials said Monday.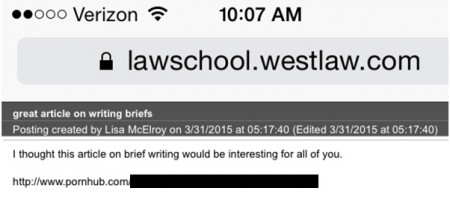 On March 31, Lisa McElroy, an associate professor who teaches legal writing and pedagogy at the Thomas R. Kline School of Law, sent her students an email with the subject: "great article on writing briefs." When students clicked the included link, however, they were directed to a video of a woman engaging in a sexually explicit act.
In a statement, the university said that according to federal law and the university's policies and procedures, "Drexel is required to initiate fact-finding for all reports of inappropriate behaviors of a sexual nature that may impact members of our community."
"As part of these policies and procedures, an employee may be put on administrative leave — which is not punitive — during the investigation," according to the statement.