May 2013, Los Angeles – Gambling in Vegas just got more exciting with the first Sex Toy Race in the history of Sin City; the game is coming to NYC and LA summer 2013. Fun Factory, German sex toy manufacturer, invented the concept.
During the International Lingerie Salon held recently at a famous Hotel and Casino on the Vegas strip, guests bet on sex toy races in the VIP area of a nightclub overlooking Las Vegas Blvd, where Fun Factory hosted a gambling party. The game is called "Stronic Sex Toy Race." It's played on a poker table by up to 8 people, using 4 toys that propel themselves forward at 1/5 mile/per hour thanks to a new technology called drive technology. Fun Factory, the maker of the Stronic, hopes to institutionalize the game soon.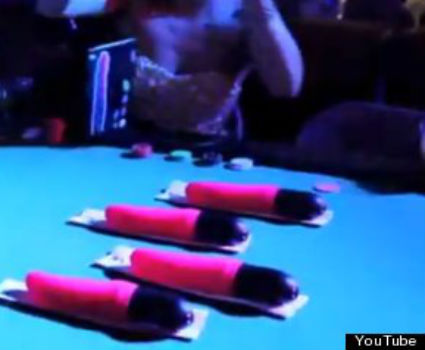 The Shop at Museum of Sex In NYC was the first to host a Stronic Race in February 2013 during the launch party for this Fun Factory product. A staff member at MoSEX says the "Stronic is my new long, strong, German boyfriend." Fun Factory will be at the Museum of Sex again in June during Pride week for the launch of Stronic Zwei (Stronic 2).
Doctor Carol Queen, from "Good Vibrations" retail stores is speaking with Fun Factory about organizing Stronic races during her annual Masturbate-a-Thon. "What a great new participant sport," Queen says, "though not as great as the participant sport the Stronic was initially designed for, if you get what I mean. What I love most about this new technology is that it finally allows users to enjoy a thrusting sensation, not just vibration."
In West Hollywood, the Pleasure Chest is hosting a series of races in the Fall and promoting the game on its blog. "It's one the most popular videos on our blog" says Director of Development Kristen Tribby. "The racing game is a clever way to showcase the unique thrusting technology and brilliant design of the Fun Factory Stronic." Tribby says the store is selling out of Stronics, "a great new alternative to vibrators."
Frederic Walme, CEO of Fun Factory USA says: "it's not the most cerebral game but at least it's more complex than Keno, and it gets people really riled up." Next sex toy race is hosted by the NYC Museum of Sex in June to raise money for an LGBT charity. Until then, Fun Factory is still looking to partner with casinos to introduce recurring "Stonic Sex Toy Race" nights in gambling states or as an activity for fundraising events. For B-roll, high definition videos or images, please contact Emilie.rosanvallon@funfactory.com
ABOUT FUN FACTORY: FUN FACTORY is Europe's largest manufacturer of silicone erotic toys. The company was founded by engineers Dirk Bauer and Michael Pahl in 1996. It specializes in making high tech, aesthetic and trendy products, all manufactured in Germany. In 2003, FUN FACTORY opened its first subsidiary in the USA. In 2005, it opened a third one in Great Britain. Today, the company has over 120 employees. Its products have won more mainstream awards worldwide than any other company in the Novelty Industry.
Press contact: Emilie Rosanvallon 3611 W Pacific Ave Burbank, CA 91505 Phone: (818) 8617601
Emilie.rosanvallon@funfactory.com