APAG members/ officers Ruby and Alana have been telling people that my issues with the porn union are bought and paid for by the FSC. That they are the reasons im opposed to porn having a Union..Because I have written some many posts about it, alot of things have been lost in the wash. So im gonna lay out my biggest concern which is the money..
From day one, the union, lead by felon Phylisha Ann has talked about money…

That's from March 2016, before there was even a board in place  The Union at that time wanted to charge 1000 bucks a year to be a member .
2 months later in May 2016, after Evan Stone starting calling Union founder Phyllisha Ann out for fake elections and her attempts to make a buck off the talent. Phyllisha Ann posted sent a message to Evan:
Yea, 200,00 to 300,00 thousand a year..
In the summer of 2016, Phyllisha Ann went to FSC headquarters and tried to extort her way to free office space. Not only that, she wanted every member of FSC to be forced to join IEAU.  Dues paying of course.
When FSC brushed her off, Phyllisha Ann reached out to liberal anti-porner AHF's Michael Weinstein. Using the lie "We have 300 members"  she was able to get AHF to at least verbally commit funds to her scam union. This can be heard on these illegally recorded phone calls between Phyllisha Ann and AHF spokesmen Adam Cohen .
Shortly after that promise of funding, Phyllisha Ann went behind members backs and signed the Union on in support of Pro Condom Bill Prop 60. This lead to a series of tweets from Union Officers :

I guess some how, we, or the performers are supposed to trust the only Union treasurer on paper, Phyllisha Ann.
Think about this, APAG, had to go to court, to get Phyllisha Ann's, the person in control of the money, signature removed after she, according to APAG, ILLEGALLY added the union to the condom bill.. And thats the person who writes the checks..
The brouhaha of all this as well as a nonexistent member roll and a series of articles here were the undoing of Phyllisha Ann. She sort of disappeared into her pathetic life when the con failed to work..
Time goes by and Porn has a series of unfortunate setbacks in way of performer suicides and OD's, add the Stormy stuff and APAG members are weaseling their way into mainstream press.  Now, the union doubles down, with all this publicity, lets drop the it's about time to start paying:
Not ONE MENTION of money anywhere in 2017.. Then all of the sudden, BAM,,,Pay me.. Coincidence, maybe, but doubtful.
See, after the prop60 debacle, APAG and IEAU were fighting, each one trying to do away with the other, but, nothing…Looking at the promotion done for the other by both sides, it looks like APAG has forgiven Phyllisha Ann for selling out the porn industry and now is actively promoting her. Weird
Like I told you the other day, any money given to the UNION goes to Phyllisha Ann: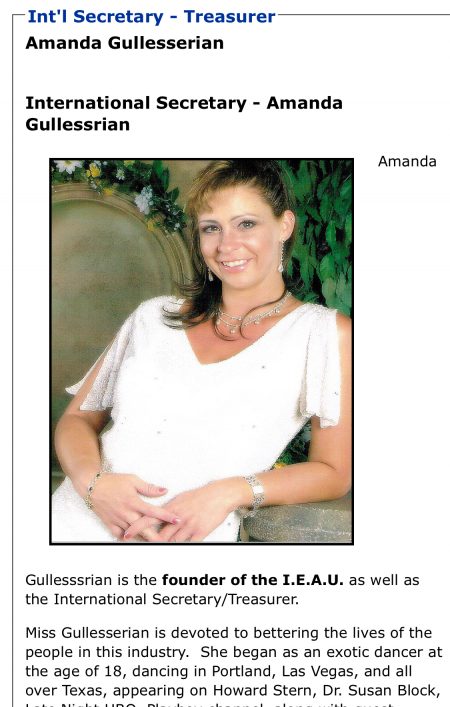 who then, according to her own words decides were it goes after that:
No matter what chapter, local, guild or profession you are in within the adult industry unless you have registered with  this website and receive your Union Membership ID Card, you are not considered a member of the I.E.A.U.  For information regarding where the Union funds will be held and used for as well as how the dues will be split between each subordinate body of the I.E.A.U. please refer to the information tab located on the main web page.

Membership dues are required to maintain quarterly to stay a member in good standing, giving you full access to membership site, discount programs, the right to membership voting and to run for Union officer during times of election.
Every single person that joins APAG, has to pay Phyllisha Ann.. There is NO way around that.
After people read this, Ruby will call Alana and they will talk about how FSC and APAC are paying me blah blah blah, cuz you know, why would anyone call the OBVIOUS scam without being paid first..
I will be in LA for a week in June..I will submit to a polygraph from any licensed and bonded company you so choose.
I will answer any question related to the union, FSC, APAC and any PORN company or agent the union thinks is pulling my strings..
I will bring $1000 cash as well as the log in to my database…
If I flunk, you can have the cash to cover the cost of the testing, then you can log into TRPWL and delete the whole site..
If I pass, every single officer involved in the union has to resign, and and new election held.. Not one person on the new ballot can be related to Phyllisha Ann or held an office prior..
Sounds like a win for the Union, get rid of me and my site..