LOL  Wow..One Dime?  That's about how much he's made selling porn this year.. Sidebar, Ive always thought Souths hatred for Tubes isn't because they ruined alot of companies bottom lines, but because no one ever uploads his porn to a tube..Imagine being South, every day you search a tube and never see your titles..Its like a slap in the face, your porn is SO bad that even in a free market there's no demand.
Anyway, that's a story for another day.. Earlier today, while I was minding my own business watching the Outsiders, no not the 80's movie that catapulted the career of Danielsan, the series, about some moon-shining hillbilly's fighting coal-miners.. See where Im going with this?
So there I am trying to understand the garbled dialogue of this hillbilly show when someone sends me a Brad Armstrong tweet. Brad is tweeting South about condoms and in typical South fashion, he responds with some stupid shit.. Reminds me of that time South tweeted that he had an Osha guy on every shoot. LOL I think he forgot that shooting porn isn't legal Georgia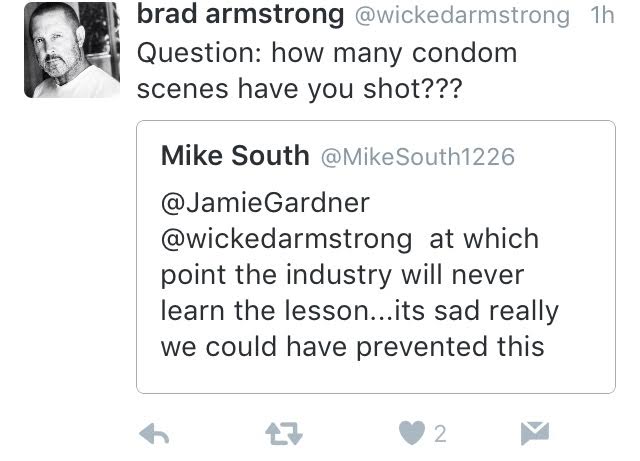 His reply is epic Mike South:
Not even sure where to begin with this tweet. We can start with the obvious. Why is South still shooting porn? His website is doing so bad he has resorted to selling scenes for 4.95 on various clips for sale sites. But then again, he only needs to sell one scene to turn a profit. South has a great business model, he books the girl for the bukkake, then charges 7 or 8 guys 100 bucks or more to be the male "talent." Uses the money from the "talent" to pay the girl. He uses one of the guys to film when he wants to jump in..
None of that is disputable as South has left a breadcrumb trail all over the net. If Prop 60 supporter Mike South lived in Porn Valley and did the same shit he does in Georgia, Cal/Osha & AHF would have already shut him down.
So after seeing that tweet, the first thing I did was laugh, then I texted one of the girls South has booked in the last few months..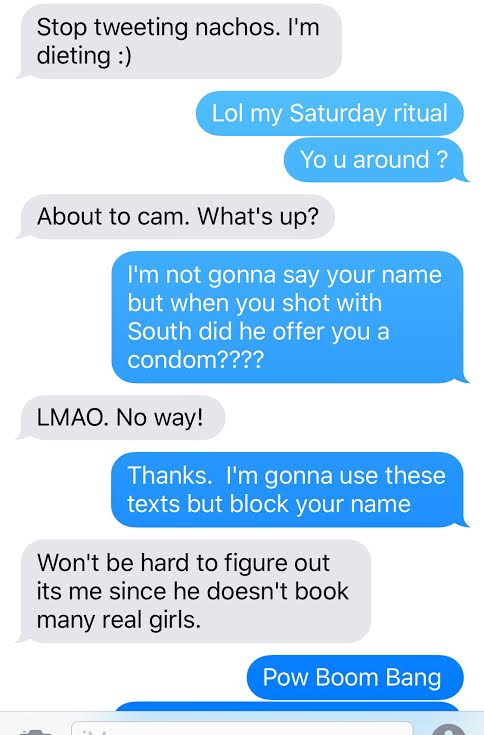 Ok, so maybe this condom thing is new. After all, he did just come out in favor of Prop60, the condom measure aimed at destroying porn valley..But he said, condoms haven't hurt his sales, that would imply he's got condom scenes out already. I know what your thinking, if he really doesn't move any porn, how can he know?  LOL, I know, but lets pretend South isn't on disability and working a job under the table..
Obviously he's not using condoms on his Bukakae site, a site that if he lived in California wouldn't exist if Prop60 passed.. And looking thru the promo stuff for Souths other sites, I see no dicks with condoms on and I see no mention of condoms in the tag words. Out of the 6 girls we have talked to over the last 2 years, not one was ever offered a condom. I can't find a trace of condoms on any Souths sites.
IMO, for him to state that condoms aren't costing him a dime, he would have to have at least 5 condom scenes for sale. But I cant find any.. Maybe the fake lawyer he hired to sue me can send me the links..
Good thing is, after today, South will never shoot another scene without condoms, which is good since half the stuff he shoots doesn't include std testing. Bet you feel safer already,…