Almost half (48.7pc) said they had garda clients and 2.7pc said they had provided 'free or discounted' sexual services to officers. They generally had positive experiences in their dealings with the gardai and PSNI, but complained of the PSNI's use of large numbers of uniformed officers and marked Land Rovers when carrying out raids. A number also accused the PSNI of racism and some also felt the same about gardai.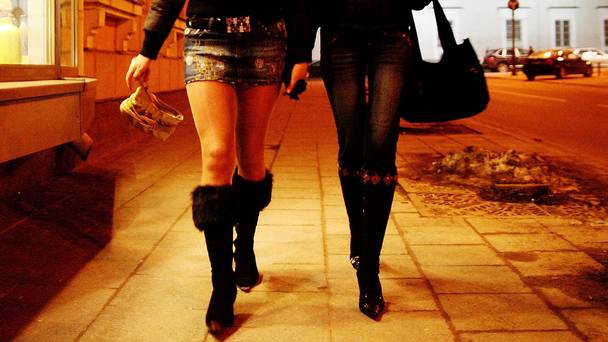 The purpose of the survey, by the agency Uglymugs.ie, was to establish how sex workers viewed policing in Ireland given plans to introduce new laws which will effectively criminalize the entire sex trade. Such a law, to be introduced in Northern Ireland, also on its way in the Republic, will make it an offense for someone to pay for sex.
Uglymugs, which provides an online forum for sex workers to exchange information about dangerous clients, carried out another survey last year which showed low levels of confidence in gardai among sex workers.
While the 86 participants in the latest survey mainly had a positive view a number made disturbing claims. The sex worker who made the allegation about a male garda demanding a sexual service to have her mobile phone and laptop returned said she was speaking about a friend she had been working with in a provincial town.
She wrote: "l and another girl were quizzed and they took my friend's computer and her phone. The next day the garda asked her to [perform a sex act] without a condom. She was happy to get her computer back for doing this service."
Another who spoke of negative experiences with gardai also claimed to have been forced to perform sex by a garda. She replied to the questionnaire: "I was kicked out over 10 times by guards from lots of places, but have never been beaten. If you work alone they will leave you, but if you are two or more girls they tell you to leave or detain you. The next day after a raid, one of the gardas come back on his own and forced me to have sex with him. He was disgusting man."
Another commented: "I called the garda after being attacked by three guys. Two garda officers turned up but they were not interested in catching these guys." Another sex worker said: "I had a problem with a racist guy. He didn't like me because of what I do for a living and he threatened to kill me in front of my house. The police came, but they didn't do anything even though there were almost 30 people in my yard."
Positive comments included: "A guy tried to rob me. I had no money in the house. He attacked me and left me with bruises all over. I called the gardai and within 15 minutes they were at my place. They were very helpful and the guy is due in court now." And: "I never had any problem with garda. Once I had a chat with a garda woman and I said to her what kind of job I was doing. I did ask her if I will have any problem. She was really kind to me. When we had a chat it was outside of my work environment. She tried to help me if I was victim of abuse or mistreatment. I said to her that I was working as an independent and I was okay. I don't know if a garda male will treat me like that. I was very grateful for her kindness."