(LOS ANGELES, CA — The multi-award winning "Fuck A Fan" series from Immoral Productions proudly presents its 25th edition.  This edition features Nina Elle who along with Layla Price and Jennifer White give Brian a birthday gift he will never forget. Fuck A Fan truly makes the day of Chas as he gets to do Heidi Hollywood, Skylar Green and Jennifer at the same time. Jimmy from New York gets laid for the first time in three months and he makes up for lost time as he delivers the goods to Brianna Brooks, Jennifer and Chase Ryder. In the finale little Oscar rocks the world of porn superstars Mrs. Brooks and Mrs. White like De La Hoya knocking out his competition!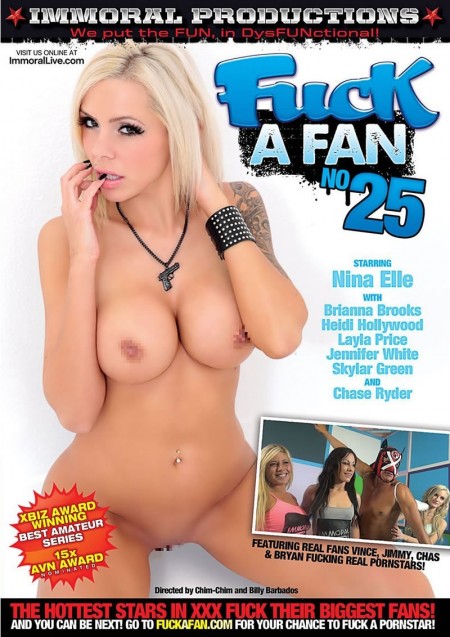 The twenty-fifth volume in this XBIZ Award Winning and ten-time Adult Video News (AVN) Award nominated series from Immoral Productions offers real-life fans the chance to get paid to get laid. Hosted by the King of Debauchery himself, Porno Dan, this is the twenty-fifth of many releases planned as a spin-off from the highly successful FuckAFan.com web site.
Immoral Productions owner 'Porno" Dan Leal said of Fuck A Fan 25, "I can't believe this is my 25th edition of Fuck A Fan this just shows how much people enjoy this series!"
Cover model Nina Elle stated, "This was my first time working with the guys at Immoral Productions and I can assure all my fans it won't be the last!"
As with all Immoral Productions titles, 'Fuck Fan 25' is distributed via Pure Play Media; their, sales representative Michael said, "Twenty-Five volumes over seven-years proves Fuck A Fan is truly here to stay!'
Contact Michael at Mike@pureplaymedia.com or 954-903-3347 (x2224), or your IVD Sales Representative for further details and ordering information … For more information, go to PurePlayMedia.com, PPMB2B.com or follow @PurePlayMedia on Twitter.
Immoral Productions is the brainchild of 'Reality' and 'Gonzo' producer 'Porno' Dan Leal, who produces fresh, edgy content in conjunction with his team of talented, award-winning directors. Immoral Productions releases eight titles a month via Pure Play Media. They have received over 100 AVN and XBIZ award nominations, including 'Studio of the Year' and 'Progressive Company of the Year'; are the industry leaders in producing live adult content. Immoral Productions is the home of 'Spontaneous Gang Bangs And Unplanned Orgies' and proudly proclaim, "We don't fool ourselves, we shoot porn, and porn should be fun!"Please visit ImmoralProductions.com (
http://www.fuckafan.com/tour/
) and follow @ImmoralLive (
https://twitter.com/ImmoralLive
) and @PornoDan (
https://twitter.com/PornoDan
) on Twitter and Facebook (
https://www.facebook.com/dan.leal
)