From: Guardian.co.uk
by Ben Dowell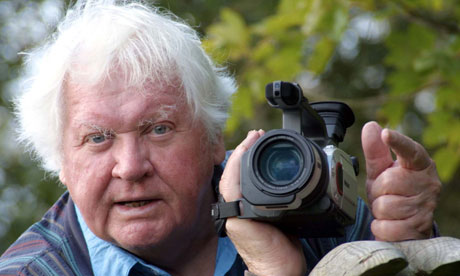 Ken Russell died in hospital after a series of strokes. Russell's work in progress on bawdy Wonderland film could be completed by new director.
He died last weekend leaving a legacy of classic films, such as The Devils and Women in Love, that led to tributes from across the film world.
But this may not be the last the world sees of Ken Russell. A raunchy musical version of Alice in Wonderland, which the director had been working on at the time of his death, is expected to be made by the same team who were working with him, incorporating his ideas but with a new director.
Russell, 84, who died in hospital after a series of strokes, had nearly finished the script for the film, which is described by the producers as a bawdy musical comedy and will be loosely based on a 1976 film adaptation of Lewis Carroll's story.
Russell had hoped to attract an all-star cast of some of his favourite actors from his long career. Roger Daltrey, the Who frontman who appeared in Russell's rock musical Tommy, is understood to have been approached.
The musical on which the Alice film is loosely based was made by 20th Century Fox and made nearly $100m at the box office when it was first distributed in the late 70s.
In it Alice, played by Kristine DeBell, falls asleep reading Alice in Wonderland. The White Rabbit appears in her dream and takes her to a sexual wonderland.
The new version has the same producer, Bill Osco, and is due to take inspiration from the original film. The producers are looking for a replacement for Russell on the script and direction and the songs will continue to be written and scored by British composer Simon Boswell.
Boswell had held a number of meetings with Russell before the director's death and expects that the film will still be made. He is currently in Los Angeles, where he is in negotiation with financiers and the production team.
Boswell said: "It was in many ways a perfect Ken Russell film – raunchy and funny. Alice in Wonderland is almost his perfect vehicle, with sexual freakery and religious aspects.
"When we met about it he was in good spirits and in good health and having a great time talking and joking about it."
Boswell had been approached to score the film because of his wide-ranging experience, taking in horror as well as more conventional period films. He has had a varied career, including composing music for a Vatican tribute to Pope John Paul II as well as making the music for Channel 4's controversial 2003 film Pornography: The Musical in which various porn stars sing about their experiences.
"I think that mixture of Catholicism and blasphemy is what tickled Ken," said Boswell. The producers are also discussing the possibility of Boswell recording a new version of White Rabbit, a Jefferson Airplane song about hallucinogenic drugs, for the film.
Russell was also hoping to approach Lady Gaga and Rihanna to sing on the film. Daltrey has confirmed that he was approached to play the Mad Hatter.
"His contribution to the visual art of cinema and TV was enormous," Daltrey said after Russell's death. "Love him or hate him, you could never accuse him of being boring. One of Britain's greats, he should have been honoured by his country. Sadly now it's too late.
"He was tremendous fun to work with because he was so imaginative and always willing to listen to a good idea. He was still thinking about work right until the very end."
A production source said this new film would be "properly financed", unlike some of the films Russell made later in his life, sometimes filming in his back garden. This late period, when he was unable to raise much funding for his work, came after a stellar career which included his masterpieces: The Devils, his 1971 historical drama about a priest accused of witchcraft, and Women in Love, his 1969 adaptation of DH Lawrence's novel.
The producer Norman Hill said of Alice in Wonderland: "It was a pleasure working with Ken on this film – he was at the top of his game and he had amazing ideas and we are adamant that we will incorporate his ideas and vision into this project.
"It is a shame that he cannot be here to see it through but we will be working with his widow, Elize, and do our best to keep his vision intact."