The color red is associated with our most physical desires and needs. It is the color of energy, emotion, passion and action that excites the senses. It is the color of sexuality and can stimulate love and sex on the positive side or a mix of anger and revenge on the negative side.
Although around Valentine's Day red is used to express love, it relates more to sexuality and lust rather than love, which is normally displayed with pink. Think the timeless weapon of fiery red lipstick. NARS cosmetics in London markets lipstick, blush and lip gloss under the brand Orgasm.
Think red rubies, Louboutin's high-heeled stilettos, red-light districts, red bras and corsets from Victoria's Secret and red roses. Rouge dates back to Ancient Egyptian times.
Was Little Red Riding Hood really a parable of sexual maturity? Why did The Red Hot Chili Peppers find early success with "Blood, Sugar, Sex, Magik" in 1991? Hand-fed strawberries, anyone?
Remember redheaded Rita Hayworth's striptease in the black-and-white movie "Gilda"? In the animal kingdom, one mate knows when to go after another when skin colorations turn red.
Now red is making the 2014 version of "Fantasy" at the Luxor even hotter than ever, and contributing photographer Tom Donoghue proves it with his gallery shoot before tonight's unveiling of the new-look production and the too-hot-to-handle new calendar. Here's an exclusive Vegas DeLuxe first look — and red is definitely the dominant color.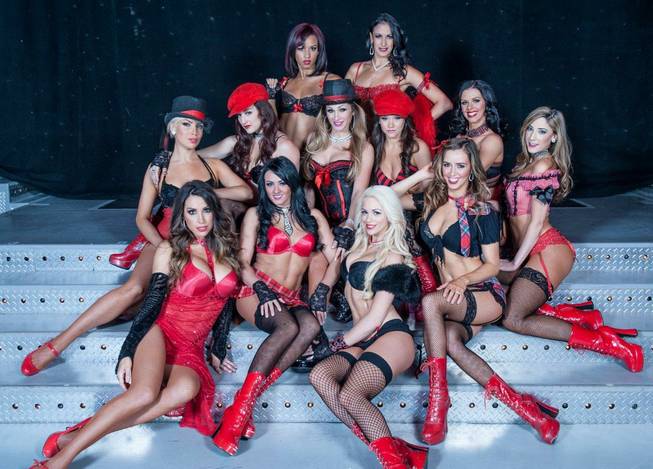 "Unleash Your Fantasy" with the official welcome to the adult cabaret's new headliner Jaime Lynch. The topless temptresses, appropriately clothed, will walk the red carpet before their special show to open up the sizzling, sexy and provocative pages of the New Year.
The calendar features 12 months of beautiful, animal-themed body paintings shot by photographer Oscar Picazo. Each "Fantasy" star was hand-painted by a team of brilliant artists as a different animal in an individual process that took several hours for each shot. The amazing art includes a butterfly, a zebra, a flamingo, a cheetah, a snake, a spider, a horse, a fish and a mermaid.
Check back Wednesday for our second photo gallery of the gorgeous girls along with our "Fantasy" party coverage. Now to figure out if I was named Robin after the racy red bird.
Robin Leach has been a journalist for more than 50 years and has spent the past decade giving readers the inside scoop on Las Vegas, the world's premier platinum playground.
Source