Reprinted from Christian XXX's blog with permission.
I was in Los Angeles with Lexi Sindel as we were shooting a few scenes for her site The Femdom Empire and I had some things to do in LA as well.  Today we shot some FANTASTIC scenes with Kendra James & Rachele Richey with Wolf Hudson.  Seriously, the performers all had great chemistry, and the scene just flowed together wonderfully.  Here are a few pics from the scenes.
After the scene, which was shot downtown, I had nothing else to do and all night to do it.  Now a few months ago some intrepid performers created APAC, which stands for Adult Performer Advocacy Committee.  It is run by Chanel Preston & James Deen with help from Ela Darling, Eric John, Casey Calvert, and Dana Dearmond.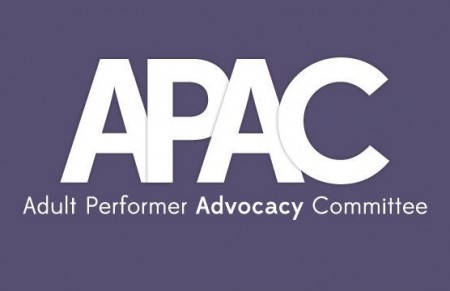 I drove over to the Silverlake area of Los Angeles where the meeting began at 8pm sharp.  The space had a very AA type feel, a large open room with lines of metal folding chairs facing 2 or 3 people speaking.  I arrived a few minutes before 8pm and the attendance was quite frankly, rather sparse with about only 15-20 people.  Of course that's because this is porn, so within the next 10 minutes literally another 15-20 people came in.
Within the group of attendees was a strange mix of veterans, males & females, newbies, and superstars.  Alex Chance, Janice Griffith, Nina Hartley, and Chloe Amour were the biggest names in attendance, but Sovereign Syre, Richie Calhoun, Jovan Jordan, Marilyn Moore, Paisley Parker, James Bartholet, Stephanie Special, Jimmy Broadway, Charlie Comet & Kinky Gaga, Loni Legend, the former Alison Faye, and a few others I didn't know were there as well.
The meeting lasted a little over an hour and Chanel ran the meeting herself.  She went over these topics in order:
The upcoming LA AIDS walk – fundraising for this event is being handled by Dana, who gave tips & pointers on how to raise funds and/or attending the walk with her.  You can donate – HERE
AB1576 – confirming that this was dead and dusted and thanks to the performers who helped fight this.
Upcoming meeting with FSC and Diane Duke to gather information about healthcare and credit union accounts for performers.
APAC information letter to all the agents – informing them of APAC's mission and/or getting the APAC mission statement to all of their performers.
Model Bill of Rights & Professional Code of Conduct for models & directors/producers
Recap of the Moratorium & information about future Moratoriums
Fundraising Efforts and Ideas
Getting more people to attend APAC meetings
Chanel would open the floor for questions, comments, concerns, and suggestions after each item.  I was impressed with the attention & participation of many of the attending performers.  Many porn functions degenerate into informal social parties, but this meeting was different in that respect and that's a good thing.
Chanel & James were very good at keeping the meeting moving forward, flowing with ideas, and keeping people involved.  I was very impressed with their skills & abilities as leaders.
As for the concept of APAC as a whole, I think it has a great chance to gain momentum and become a valuable resource for all performers.  Having Chanel & James in charge is HUGE because they are both superstars with impeccable reputations within the business.  When they speak, people listen.
They are still working on their website.  This is also extremely important for the future of APAC.  Making the APAC website the first site performers go to for information rather than an outsiders blog will help performers especially during moratoriums.
I told Chanel after the meeting that she has to run APAC like a Baptist church congregation.  The message is important, but the next 2 most important things to them is fundraising & membership drives.  Someone needs to be in charge of these areas exclusively.  There is absolutely no reason why there shouldn't be 200 people at these meetings, especially on a Sunday evening when no one is working.  I told her I could get 200 people to a meeting and everybody hates me.  lol
I honestly hope Chanel & James can get APAC going and turn it into a positive force for all peformers both new & old.  Information is power and the majority of performers have a need for more information.  Let's check back in a few months and see how much they have progressed.  But I came away from my first meeting with a great first impression.  Kudo's to them.
You can follow APAC on twitter – HERE
You can check out the APAC website – HERE
Once again, you can donate to the LA AIDS walk – HERE
Visit Christian Sings The Blues to see full size photos.