AUSTRALIANS are risking identity theft by offloading old memory cards on eBay without properly deleting their personal data, experts warn.
Computer scientists from Edith Cowan University in Western Australia bought 140 second-hand memory cards on the online auction site over an 11-month period, managing to recover photos, videos, text messages, sensitive documents and home-made pornography.
Twenty cards showed no attempt to delete data, and some senders merely requested the buyer ignore or delete the contents.
In a further 82 cases, researchers managed to retrieve poorly-deleted files using forensic software.
Two of the memory cards were suspected to contain illegal content and were handed to police, while another held governmental information plus a handful of SMS messages and pornography.
Memory cards are about the size of a fingernail and inserted into some tablet computers, smartphones and cameras to boost their storage capacity.
The risk is projected to grow as people increasingly conduct their lives on mobile devices rather than laptops and desktop computers, the researchers say.
As tablets become increasingly adopted in hospitals, there is a risk sensitive medical information could be leaked, they added.
They called on eBay to provide directions on how to properly wipe data from memory cards before selling them.
The research will be presented on Monday at the university's Security Research Institute Congress.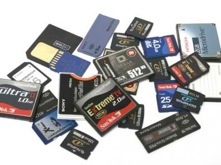 source