Truong Tran's new solo exhibition at the Telegraph Hill Gallery in San Francisco features 9,000 paper butterflies individually cut from old pornographic magazines. Tran wanted to exalt the ethereal insects, but also draw attention to how something obscene can be disguised in beauty.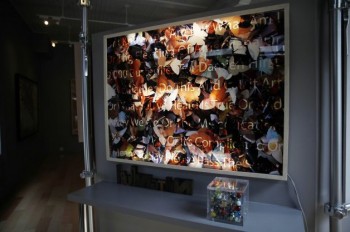 He took particular aim at the works of contemporary British artist Damien Hirst, known to have killed 9,000 butterflies for his art installation, "In and Out of Love," at the Tate Modern.
"I just thought Hirst's gesture was really obscene," said Tran, who teaches poetry at Mills College and is a lecturer at San Francisco State. "I wanted to respond to his obscenity with an obscenity."
The idea for the butterflies morphed out of a quilt that Tran made for a neighbor who died. The neighbor was cleaning out his house when Tran saw him getting rid of stacks of pornographic magazines. Tran said he wanted to make something with the magazines. The "Quilt for Joe" was fashioned from the pornography and from nature calendars.