I was gonna wait and put these fuckers on blast in a bigger post later in the week, but instead I've decided to write a bunch of smaller pieces so everyone can be reminded there is NOTHING legit about the "new and improved" Urban X Awards..
A couple days ago, one of the coke heads involved with the phony award show started releasing the names of nominees
While I don't claim to know all the girls on the list above, I'm confident they all have 2 breasts
Notice Daya Knight is on both those lists.. These nominations are presumably based on fan voting.
THE FANS HAVE NOMINATED THEIR FAVORITE PERFORMERS & COMPANIES,
NOW OFFICIAL VOTING HAS STARTED AND WILL GO ON UNTIL AUGUST 4, 2017.
JUST SELECT  YOUR FAVORITE STAR, PRESS VOTE, AND JUST LIKE THAT YOUR VOTE WILL BE SUBMITTED!
ONLY ONE 1 VOTE IS ALLOWED PER CATEGORY, BUT YOU CAN VOTE ON MULTIPLE CATEGORIES.
THANK YOU AGAIN FOR YOUR PARTICIPATION!
After Daya tweeted Urban X about voting, Urban X responded then proceeded to block her on social media..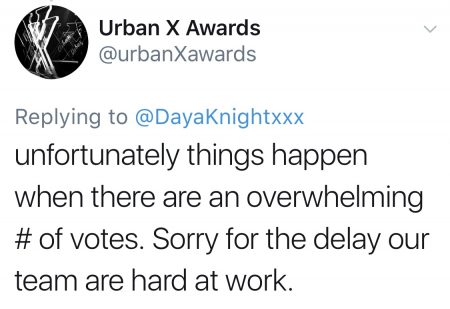 Soon thereafter, Daya was removed from the fan voting section in both categories:
They replaced Daya with Brittany White in the 'Nicest Breast" category and Jamie Marliegh in the 'Female Rising Star' category.
So much for the "fan voting" huh.. Urban X got mad, and said fuck the fans…
Much more later……