We've noticed a few Aids Healthcare Foundation UseACondom.com billboards in Woodland Hills and the surrounding areas lately and we're wondering what you think of them.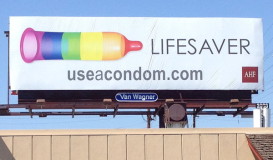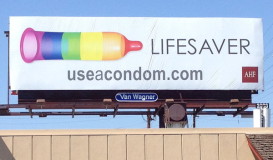 Have we as a society, particularly in our Woodland Hills community, reached a stage where discussing sex in public, indeed on billboards like the one Patch spotted near Fallbrook Avenue and Oxnard Street, is acceptable and maybe even encouraged? Are we behind the times for even asking?
Do you see the billboards as providing a benefit to the community, pointing viewers to good information about safe sex and giving a friendly reminder to use condoms?
Or are the ads, with their bright Lifesaver candy-like stripes, too eye catching to children and perhaps spurring conversations that young ones (not to mention their parents) might not be ready for?
We'd like to hear what you have to say, Woodland Hills — and West Hills, this particular sign was very near your border. We hope you'll weigh in too!
Source