So a reader left a link in the comment section of a Haze post..Hoping it was a link to some awesome fake Nigerian NFL jersey site i clicked it…
Imagine my surprise when it opened up to a baby registry for none other than Serenity Haze.  I know what you're thinking, Sean didn't confuse than and then.

Like I told Grace, Im a wordmsith, like little Ralphie Parker writing to Santa about a BB Gun, this shit just rolls off my tongue with perfection.
Im certain this is totally legit.  Its not like Serenity has ever used a sick kid to scam money before?  What if she is pregnant? I can see the 1st day of school now, Serenity loads the little one into her 1978 white panel van, leaves the trailer park only to let the 5 year out of the van several blocks away from the school. "Mommy, why cant you drive me all the way to school?"  Sorry little Cletus, mommy cant be within a 1000 feet of a school or a Chuckie Cheese..  Well can you at least tell me who my daddy is?  Of course Cletus;
Sadly these 2 didn't last long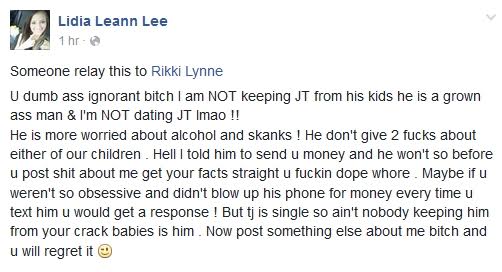 Man, if these 2 lovebirds cant make it work there is little hope for the rest of us.. JT seemed like a great baby-daddy and awesome role model.
Maybe when little Cletus is older Mom can tell him about all her fans .
It seems Serenity's fans will stop at nothing in their search for the latest news and info on her..Some even visiting this site to comment the stories: