So, the awards ceremony is about to begin, and there we are – Lily Cade, Jessica Ryan and I – in our seats…when out of the blue, a dear friend of mine who's a Senior VP at Showtime Networks (the channel recording the event for broadcast in January) comes to find me, and bring me up to the VIP area overlooking the gathering. Being the kind of guy I am, I brought Jessica and Lily along.
The other people in Showtime's private area were my friend's assistant, Steven and Marci Hirsch from Vivid, and Diane Duke from Free Speech Coalition. Lily's not a fan of crowds either, so this was mellow and perfect. And our drinks were paid for by Showtime, which was nice. I chatted with the other guests, and introduced Jessica (who recently appeared in Axel's latest superhero parody for Vivid) to Marci.
Sadly there was no one from our competitor sites on hand to join in our fun. No bloggers mingling with porn's power elite. Hmmm…
Here's the view from the good seats.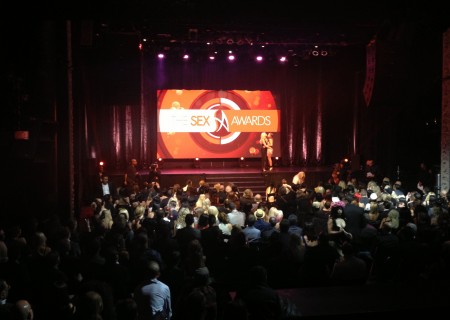 Jessica thought I was "stewing" when I quietly snapped pics like that one instead of molesting her. So, I snapped a shot of the gals with our host.
She still preferred molestation.
I can't tell you much about the awards show portion of the evening other than to say that jessica drake was a phenomenal host, Ron Jeremy won a Lifetime Achievement award, James Deen did an extraordinarily brief and funny acceptance speech, and Kendall Karson looked hot on stage, presenting with Joanna Angel and Marie McCray.
After all the awards had been handed out, I swung by the audience area, got a big hug from Tessa Lane, and took another pic with Aaliyah Love, just because.
I don't remember if we ever had that drink…
On the way to the lobby I hugged Savannah Jane, said hello to my old pal Axel Braun, had a great chat with Mo Reese…and finally found Kendall and Edwin Lee (with whom I'd arrived).
Then, immediately after I snapped this shot of Lee with my lovely friend Melissa Hill…
…I saw Barrett Blade running at a dude who looked like Jesus on heroin – accidentally splashing some of his drink on Kendall in the process. Some say Barrett thought he had spotted scammer/snitch/porn pariah Rob Black and was headed right at him. I tried to make my way toward scrawny Jesus from behind, but security interceded and kept everyone away from him. I got restrained, and Lily Cade was knocked against a wall. Even worse, Lily had been holding my beer and security took it because she didn't have the right wristband. Dammit.
I didn't see where the guy who Barrett took a swipe at ran off to while security held us all back. The fact that he ran like a bitch kinda lends credence to the Rob Black theory, though. I heard that Corvus and his friends were going to wait outside for the dude in case it actually was Black, and he had taken refuge inside, but Xander told me the next day they never saw him. Sickly Jesus must have run out the door when trouble arose. This was wise – all the more so if it had been Black, for there certainly would have been a long booking line at the Hollywood police station had he stayed around.
Kendall, Edwin and I ventured outside. I had a little chat with Just Dave, and then the incredible Tara Lynn Foxx tried to rape my ear (a good thing).
The amazing Bonnie Rotten was hanging out…
…and Leya Falcon was sucking on a light saber.
Great gal, terrific performer, and anal advocate. The trifecta. Great to finally meet you in person, Leya.
After that, I know I had two PBRs at a diner nearby. In my mind's eye I can see Kendall, Lee, Alektra Blue and Ralph Long there, among others. I woke up the next morning at a female performer's pad a few blocks away. I left without waking her, bought a burrito and went home.
There are eight million stories in the naked city. This has been one of them.
– Fin –