Teacher Helps Her Relax for Oral Presentation
Los Angeles – Layla Price goes back to school for a new Brazzers.com scene and shows she really knows how to get ahead.
Bill Bailey plays the helpful teacher who does everything in his power to get Layla prepped for her presentation and Layla proves very open to his suggestions and they prove helpful.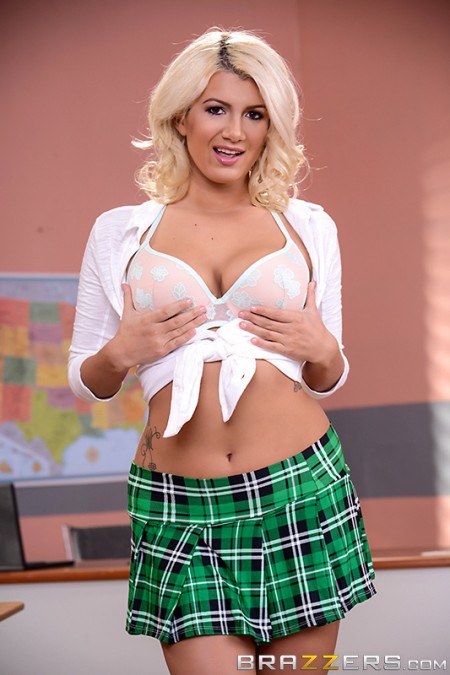 "I'm very nervous about my oral presentation for class, but my teacher helps me relax in more than one way," Layla says. "If only school had really been like that! I love shooting for Brazzers. We get to explore so many cool scenarios that are a blast."
The scene is called "The Oral Exam" and goes live this Friday, March 18, on Brazzers' Big Tits At School site. For more information go tohttp://www.brazzers.com/scenes/view/id/9527/the-oral-exam/.
Fans who want to chat with Layla can get in touch with her using Chatstar at http://chatstar.com/laela_pryce. Fans can talk with Layla one-on-one, text and send dirty pics. Follow her Instagram (bootykush91).
To set up some time with Layla check out Verified Video Chat at https://adultverifiedvideochat.com. For information on Gorilla Glue and Layla's other marijuana strains go to http://www.shopmarijuana.com.
Fans interested in signed merchandise or outfits can contact Layla atlaelapryce@yahoo.com. Check out her FreeOnes page (and give her 5 stars!) at www.freeones.com/html/l_links/Laela_Pryce/.
Layla is available for feature dancing and hosting gigs through Centerfolds Strips (www.modelmanagement.com/agency/centerfold-strips-exotic-dancers/). Be the first to know everything about Layla by following her on Twitter dot com (@laylapricexoxo).