Award winning adult performer Shawna Lenee is back — hotter than ever — with her first new performances in more than 4 years now online.
The Ohio native began her adult film career in 2005, when she was 18 years old, under the stage names Kara Mynor and Kara Bare. Over the next five years, she racked up more than 250 credits, and was named 2008 Hottest Girl in Porn, 2009 Penthouse Pet of the Year Runner Up and 2010 AVN Unsung Starlet of the Year, before going on hiatus in 2010.
This fall, however, the universe smiled down upon porn fans the world over as Shawna staged her comeback, under a six-month exclusive contract with porn goliath Brazzers.
The star's latest movie, The Fulfilment of Shawna Lenee, will be available on January 10, 2015.
The gorgeous porn star, centerfold and businesswoman recently sat down with TRPWL for an exclusive interview.
You never liked your old nom de porn, Kara Mynor/Minor, did you?
When I started in the industry nine years ago, I feel like I had a lot of people who were trying to control my career, and trying to transform me into what they wanted me to be instead of letting me be the performer that I wanted to become. And I was just never comfortable with the name Kara Minor — I thought it was ethically wrong —  and I changed that as soon as I could. A couple of years later I finally got the chance to change my name to what I wanted, so I was very happy and very excited to be Shawna Lenee.
You went on hiatus from performing in 2010 — what was the reason?
Yes, I left in 2010 and moved home to Cleveland. I just needed to take some time away and realize what life was like without the adult industry. I'd started at 18 years old, and I was [then] 23, and I wanted to go to school. So I went to school for small business management and opened a couple of businesses. I also have children, and they needed to see me a lot more than they were seeing me.
So, you're living full-time in Cleveland…
I don't want to live anywhere else. I love Cleveland. I love my Browns, and my family and friends are all there.
Were you still recognized in public during the time that you were no longer shooting?
A few times a week.
The power of internet…
I actually gained a lot of new fans, even while on hiatus. A lot of people didn't find me until 2012, 2013.
What brought you back?
I couldn't say no to the opportunity that I was offered by Brazzers. To be under contract to them is an amazing opportunity and I'm truly very excited about it. It works out perfectly for my situation, and I love working on set for them.
Tell us about your contract with Brazzers…
My contract runs through April; it's a six month contract, and I do hope they renew it. I'm working very hard. The contract entails two scenes a month, and also I will be shooting two anal scenes by the end of this contract.
What do you think you're best known for, either within the business or among fans?
From what I hear, it seems as though people love the blow jobs that I give. I think it's the energy I give in the scene. Whenever I'm doing a scene I'm thinking, 'How can I make this hotter? What can I say right now, and how can I position my body to make this the hottest scene ever?'
Which begs the question, what's your recipe for a great blow job?
I don't really have a formula, I kind of just feel it. Each one is different. Some male performers like to face-fuck the girl, and some of them like when I use my tongue a lot, so it all depends on the male performer. I can tell what they like by what they're saying and what they're doing and how they react, and I try to please them to make it more realistic.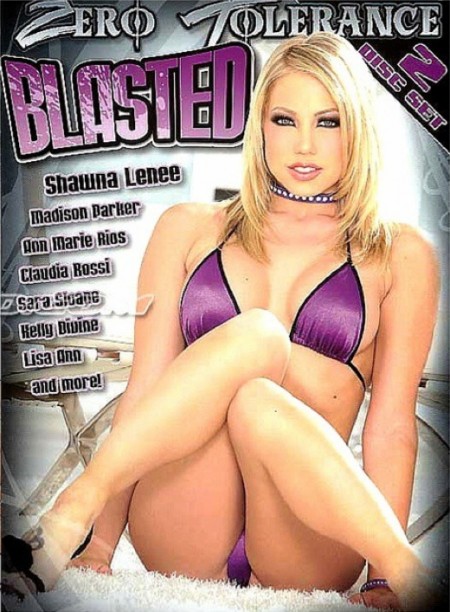 What are your favorite and least favorite things about the adult biz?
My favorite thing about the adult business is having so much fun on set. I feel like all the people I work with are my friends, and it's kind of like hanging out with your friends all day — working on a project, completing a project — and at the end of the day it feels so good. Everybody comes together to make this scene, and it's a really great feeling.
My least favorite thing is how a lot of guys assume that I will just have sex with them at the snap of a finger. Personally, that's not me. I don't even get the chance to date in my personal life. I'm focused on my goals. I don't walk down the street dressed like I'm in a movie, and I'm not having sex 24/7. [laughs] I wish that every guy respected that I'm a porn star performer, and that's not me in real life.
You've done some fetish work. Do you have any fetishes?
Yes, I do! I love my toes sucked on, and foot massages, and I just love my feet worshipped. When it comes to fetishes that I have for other people, I don't really have any. I mean, I love women, and especially women who've never been with women before, and I like to show them what it's like to be with a girl.
Is there a type of scene you really like to shoot?
I think my favorite scenes are regular boy/girl scenes. I love to be able to look into the guy's eyes. Boy/girl/girl scenes are also fun because I get to have a guy and a girl.
You've done a good number of features. Does acting and doing dialogue appeal to you, and is it something you've sought out?
Definitely. I went to acting school before I got into the adult industry; acting classes twice a week for about a year. Acting is actually a passion of mine that I absolutely love. I've also always been a big reader, and I believe that's one of the things that helps me grow as an actress. When I read books, I read the words that a character is saying, read it in my own way, and place myself in the context of the story and how I see it in my mind. It's similar to script reading: you have to see it, and you have to feel it.
One thing that's changed during the time you were away is we seem to be seeing fewer performers with breast implants. Do you have a preference?
Oh, I love fake boobs! I think fake boobs are way better than natural boobs. I think they feel better, I think they look better. I would take fake over real ones any day of the week.
Do you shave or wax?
I shave. I do not shave all the time, because I don't shoot for a month or so when I go home. So, in my personal life I shave it into a triangle, and then I shave it off before I go to do scenes.
If I stole your iPod what would I hear?
Jesse McCartney.
What were you like growing up? Were you an attractive child? An ugly duckling?
I was just a normal girl. I was a cheerleader, I had a lot of hobbies and interests. I had a lot of friends…
Would your school friends be surprised at your career in adult entertainment?
Oh, they've known for nine years. Everyone knows and everyone's very supportive of what I'm doing.
When you're not shooting, how do you spend your spare time?
I spend time with family, or crocheting or working on my businesses. I also cook and clean a lot, because I'm the manager of a household.  I read a lot: scientific articles constantly, and also writings about atheism, feminism… Otherwise, I'm marketing myself online regarding my career in adult.
You began working at the Hustler Club in July — are you still dancing?
Yes, I am.
Any plans for feature dancing, and taking your act outside Ohio?
It's in the works, and I'll make an announcement when everything is set. I'm hoping for a 2015 tour.
Will you be attending January's AVN Adult Entertainment Expo in Las Vegas?
Yes, and I'll be announcing my schedule soon. [Shawna will be signing at the Digital Playground booth January 21 – 24.]
What advice would you give to a woman thinking about becoming a "porn star"?
My advice to anyone who wants to enter the adult industry is, first, do your research. Know exactly what you want to do, and set goals — you need to set goals for yourself, financially and career-wise and in terms of personal self-development. I think those things together can help make someone a success in the adult industry.
Also, don't let anybody run your career. Be in charge of your career, you make your choices. Don't do anything you're not comfortable with. I've never seen any girl forced to do anything on set, and if you're not comfortable you have a right to say so.
My last piece of advice would be, don't think or expect that someone else is going to grow your career. You have to take charge of your own brand, your name, your performances; you can't just assume, 'Oh, my agent's gonna make me famous.' No, no, no, you have to do the work.
That's been my observation over the twenty years I've been around the adult world: people who treat it like a business, make a plan, and put in the work are the ones who not only succeed, but are the happiest.
I'm a businesswoman. I actually fell into getting a degree in small business management — I was going to be a paralegal, but the college I was attending was going through changes with its paralegal program, so I switched my major and ended up falling in love with small business management. In the past 4 1/2 years since I left the adult industry, I fell in love with business. I love being a business owner, and it makes me thankful that I took the time off because I would've never realized this about myself.
You mentioned that one should never do anything that they're not comfortable with… A lot of people outside of porn don't know about the "No List". Do you have one?
I did have a No List on my first go 'round, and they were guys who, maybe there was a personality conflict between us where we just didn't get along, or they didn't treat me with the respect on set that they should have. That is how a guy would get on my No List.
This time around I'm open — there's nobody on my No List, because there's a lot of people I don't know, and a lot I haven't seen in five years. If someone was on my No List five years ago, they have a chance now to work with me again.
Where will Shawna Lenee be in five years?
I'm in the process of taking over the world! [laughs] I'll be a business owner, and I will have completed one of my major financial goals.
Do you have a message to your fans?
I want to thank them for all their support and encouragement for my comeback!
Shawna's latest movie for Brazzers, The Fulfilment of Shawna Lenee will be available January 10, 2015.
Visit Shawna's official website: shawnalenee.tv
Twitter: https://twitter.com/shawnalenee_xxx
Instagram: shawnaleneefans
For information about purchasing access to her Snapchat, email Shawna at ShawnaLeneeFans@gmail.com