SANTA MONICA, CA – SkweezMe.com, an online Video-On-Demand provider for the Adult Entertainment Industry is reaching out to Sony Pictures with the hope that the Mega-Studio will allow SkweezMe.com to stream "The Interview" on their Online Television Network.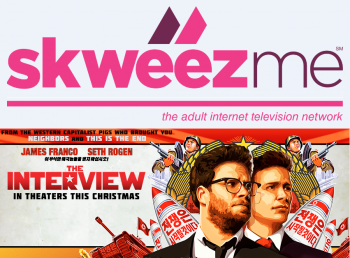 SkweezMe.com which was launched in January of this year has quickly grown to become a leading Adult Content Provider and has been dubbed "The Netflix Of Porn" by a number of mainstream media outlets including CNBC, VICE, The Daily Dot, and Jim Cramer's TheStreet.com.
"SkweezMe.com is seeking the rights to digitally distribute "The Interview" on our global online platform," said a SkweezMe.com Spokesperson. "Our streaming service is deployed on one of the largest servers in the world and can be accessed by anyone, anywhere. We firmly believe in freedom of artistic expression and freedom of speech and we will not be bullied into silence on our own soil because of these impeding threats. We will gladly take "The Interview" and stream it online via our rev-share model so Sony can try to recoup its investment, but more importantly, to show the world that we will not have our constitutional rights silenced. For decades pornographers have fought our own government and been the canaries in the first amendment coal mines. Pulling "The Interview" is the first step in a very slippery slope of censorship and we are willing to step up and offer the movie to prevent American Commerce and Artistic Expression to be silenced by a dictator 6500 miles away. "
SkweezMe.com operates a Netflix/iTunes hybrid model in which users purchase tokens to its platform for 99 cents. Each token unlocks a 24 hour period in which the user can stream whatever they want during that 24 hours just like Netflix. There are no recurring monthly memberships. Users only pay for the days that they use the service.
The business model which was the first of its kind received lots of skepticism when the company launched the service at the beginning of this year; however, the company has proved it's model to be the wave of the future with reports of growth in sales every month as well as new users every month with a very low retention rate. The platform  now hosts content from over 70 different production companies and encompasses 100's of different genres, catering to every type of adult genre a viewer could want.
SkweezMe.com's streaming platform is available worldwide and content can be streamed via the web, mobile devices, tablets, as well as on its own Roku Channel.