Less than one month after the dotXXX suffix became available, someone has UniversityOfHawaii.xxx domain for auction on eBay. Interested? You can buy it now for $150K.
There is currently a placeholder at the url, claiming the site will launch 02, 2012.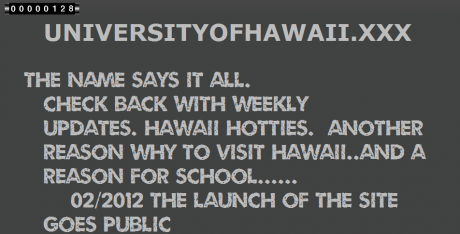 From KITV News.com:
HONOLULU — Someone has put a University of Hawaii .xxx website address up for auction on the Internet, less than one month after web domain addresses ending in the suffix .xxx became available to purchase for the adult entertainment industry.
While some colleges and universities bought up potential porn web addresses using their names to preserve their reputations, the University of Hawaii did not.
It appears that the University of Hawaii has become the victim of what's called "cybersquatting," which happens when someone not affiliated with a company or institution buys a form of its web address and tries to make money by selling it back to them.
On Monday, KITV 4 News discovered someone is trying to sell TheUniversityOfHawaii.xxx domain name for a starting price of $100,000 on the online auction site eBay.
"They should be concerned about their reputation. But before giving in to these extortionists, I'd start to do research on the alternative ways which are much more cost effective in maintaining their reputation," said Internet security expert Chris Duque, who retired from the Honolulu Police Department in 2007 after spending 17 years as a detective specializing in cybercrime.
Duque said the UH should put a disclaimer on its own website, making it clear any porn websites are not affiliated with them.
"We don't condone, we don't sanction, we don't authorize any sex sites for our organization. If you do happen to come across this, please contact us," Duque said.
Some educational institutions have gone to the ICM Registry website, where people can purchase .xxx online domain names for about $100 a year. The schools have purchased various versions of their names with the .xxx suffix as protection.
"There's too many to buy. So rather than start, they're going to nickel and dime you to death. So rather than do that, I'd say put up the disclaimer and the warning and says that we'll take legal action against anyone who misrepresents us," Duque said.
The person who trying to sell the UH .xxx site on eBay calls himself "chrisasaur," and is offering other suggestive website addresses for sale, including "IHadYourMama.com," for bids starting at $50,000.
He is also listing the HugeBoobies.xxx website for a starting auction price of $2,500.
Duque said the public is much more educated and skeptical of the Internet now compared to 15 years ago, before the use of the web became widespread.
"And when they see a website that, OK, 'blah, blah, blah college .xxx.' They say, 'No, that's not related to this particular university,'" Duque said.