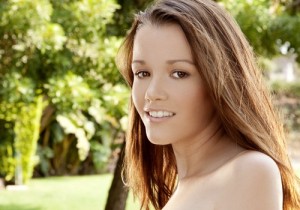 I didn't title it cuz she didn't. It speaks for itself. This should be a reminder to all. What you have today may be gone tomorrow…
Just listened to something this morning that saddened and disturbed me on many levels. I've missed the industry incredibly, because I am so incredibly proud and passionate about what I do. I have always used my platform as a porn performer to encourage a sexually open, positive lifestyle, and I 100 % support that lifestyle. However, in the months that I've been battling cancer, I've gotten to sit back and take a good honest look at the porn industry and really observe things I couldn't see when I was in the thick of it.
Being a former Digital Playground contract girl, I pride myself on having been with one of the biggest and best companies in the world. I loved being a representative of such a powerhouse, and I especially love my former contract sisters, Jesse Jane and Riley Steele. They are some of the kindest, talented, beautiful and most business savvy women I have ever met. Jesse is an icon of pornography, right up there with Jenna Jameson. She singlehandedly has helped make Digital into the force that it is today.
To me, being a "contract star" was about being on a different level than other porn performers. As a contract star, you have an entirely different scope of spotlight and exposure than anyone else. The reps for these companies can get you on national talk radio, mainstream television, and a myriad of other very visible pulpits. It allows you a very unique chance to present yourself to the mainstream world as a sort of "beacon of light" for an industry that is stereotyped and has an incredible stigma surrounding it.
All contract girls use this spotlight differently. Some, like Jesse Jane and Riley Steele, are quintessential American girls who present their beautiful and bouncy personalities, as well as their genuine love of sex and pornography. Others, such as Stoya or Kayden Kross, have much more atypical, "off the beaten path" personas, which appeals to a different audience. They provide a wonderful contrast to the more expected images of what a porn star should look or act like. Companies like Wicked Pictures have a wonderful stable of very talented and socially influential stars such as Jessica Drake, Kirsten Price, and Stormy Daniels. I know all of these women personally, and suffice it to say, they are perfect examples of what a good human being should exemplify, let alone, wonderful spokespeople for the porn industry.
I am a completely equal opportunity person, I believe diversity is one of the most essential cornerstones of any society or organization. I have met every kind of adult performer, and they are each as unique as all of the fans that watches their films. What I am writing this blog on, however, are the times when an adult performer doesn't necessarily seem to be thinking of, or acting on, the incredible responsibility that we all have.
It may not seem like much, but the power of a potentially very famous pornstar's words is vast. Women like Jenna Jameson, Tera Patrick, and Jesse Jane, have with their careers and their public personas, broken down countless walls against the pornography industry. These women are true business professionals, and they are incredibly cognizant of the impact of every single step that they make both on AND off camera. Every industry and person has dirty laundry, and most times, it is best not airing it. A competition with a fellow industry person, a fight, or information that might be less than flattering, is usually best when kept under wraps. Not only are such things petty and unimportant in the grand scheme of life, but they could also have a negative impact with the general public.
You also don't discredit or badmouth your own product – you should never choose a career if you feel you are knowingly hurting someone or doing something that you believe is not a good lifestyle choice. I plead and implore with any woman in the adult industry, if you TRULY feel that way, please consider leaving porn. You are hurting yourself, and by others hearing that you feel that way, you are hurting the entire industry. I have never looked back once and wondered whether I would do porn if I had to do it all over again – I would do it 1,000 times over, with honor and pride.
I get that some young women in the industry are very young and new to the porno biz, but that is the entire point behind a structure such as a porn powerhouse. Once you have recruited new girls, they need to be coached and prepared for the large undertaking of their contract. If a girl is filming her first few movies, she needs to be FULLY prepared for the tempo and dynamic of a porn set. It's a crazy world, oftentimes very stressful and demanding, and it's not a place for someone who hasn't been prepped or someone with incredibly thick skin.
I truly hope and believe that every day, stigmas and stereotypes of the porn industry are being torn down. We fight things such as the constant scare of HIV, the stereotype that all porn performers are sluts who just fuck anything that moves with no thought to protection, or that we are catty, immature people. Hopefully ALL of the people in the adult industry can put aside the pettiness and dirty laundry, we can all work together instead of against each other, and we can achieve our goals!

http://ravenalexisxxx.tumblr.com/