(HOLLYWOOD, CA) New XXX videos that star hardcore hottie Jillian Janson (https://twitter.com/xojillianjanson) also feature her on the DVD box-covers. Jillian has proven herself to be the porn girl to watch as the barely legal beauty consistently demonstrates her passion for sex on video. The highly in-demand brunette is seen prominently on the recently released DVD box-covers of Intimate Obsessions from Third Degree Films, Anal Young 'Uns #2 from Evil Angel and Love Dice from Web Young. The bonanza of box-covers is a testament to the popularity and marketability of the "girl next door gone bad."
"I'm thrilled to see that so many companies are putting me on the covers of their movies," said Jillian. "I love sex, I enjoy what I do and I think it comes across in my videos. I know when people watch these movies, they'll be able to see that."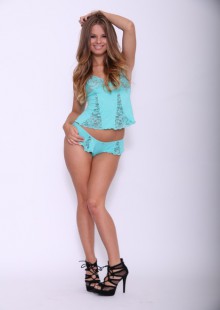 Several other titles to feature Jillian have also been landing at adult retailers, including the taboo themed Lesbian Family Affair 2 from Filly Films. Jillian, again featured on the box cover, shines in an erotic three-way sex scene that sees the brunette beauty in the throes of passion with Abby Cross and MILF superstar Tanya Tate. "I loved that scene, I got to work with two incredibly hot women. Fans of girl / girl movies are going to enjoy the chemistry we had," said Jillian.
In Wicked Pictures' No Tell Motel, Jillian is given the opportunity to show off her acting skills in her first adult feature appearance. Directed by Jonathan Morgan, Jillian is seen as a French Maid that has a hardcore fling with performer James Deen.
New Jillian Janson movies are hitting adult retailers everywhere. They're easy to find, just look for the seductive sexpot on the DVD box-cover!
For more pictures of Jillian, please click here:
Jillian Janson is represented by Matrix Models
www.matrixmodels.com

To interview Jillian Janson for your website and/or publication;
Please contact Star Factory PR: