Adult entertainment superstar Tasha Reign is donating a variety of prize packs to Maggie's, a Toronto-based sex-positive advocacy non-profit group, for its IndieGogo.com campaign to raise $10,000. Included in the prizes offered by the Penthouse Pet and Reign Productions director / performer are five separate swag bags, three custom videos, and a dinner date with Tasha.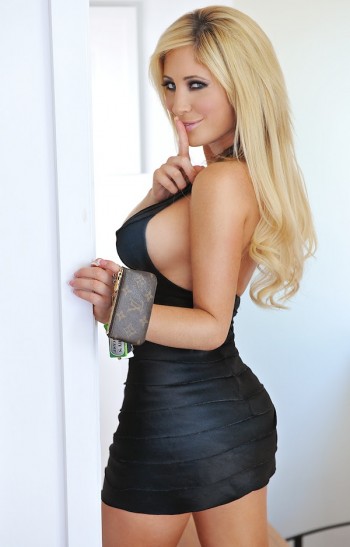 "I am so proud to be part of a cause supporting sex workers in such a positive way," says Tasha. "I hope my fans see how important our rights are, and I know they will want to be a part of the project, especially with the goodies they can purchase. I'm really looking forward to making the custom videos and going on a date with the one lucky fan who gets his hands on my once-in-a-lifetime prize!"
Maggie's is a non-profit run by and for sex workers since 1986, and the first of its kind in Canada. The organization's mission is to provide vital services and resources to sex workers, such as drop-ins, safety support, outreach, and the fight for sex worker rights. The organization's belief is in order for sex workers to improve their circumstances, they must control their own lives and destinies. Maggie's mission is to provide crucial services in education, advocacy, and support, to assist sex workers to live and work with safety and dignity.
"Having Tasha Reign show her support for our campaign reinforces what we know to be a strong community of sex workers of all types that crosses boundaries and borders," says Amy Saunders, campaign director for Maggie's. "To stand together with our sisters, brothers and lovers in the face of Bill C36, a bill that threatens many of our lives, will surely give Maggie's the strength to continue in our fight for our rights to work and live in dignity. Tasha Reign is a talented and loving entertainer and philanthropist and we extend our deepest gratitude to her and her team."
Tasha's donated prizes include the following:
Tasha's Swag Bag (5 available): 1 signed DVD, 1 Tasha Reign T-shirt, 1 signed photo, and a Tasha Reign sticker. Donation of $150 CAD required.
Tasha's Custom Video (3 available): Up to a 15-minute-long personalized video from Tasha through popular site Customs4U.com. Donation of $500 CAD required.
Dinner Date with Tasha (1 available): A lucky fan and Maggie's supporter will have the pleasure of a romantic evening with Tasha on a dinner date (Prize purchaser must live in the Los Angeles area to claim prize). Donation of $1500 CAD required.
Many of the items donated to Maggie's have already sold out; Tasha's fans are encouraged to visit the site quickly to get their hands on her personal prizes. For more information, including descriptions of prize packs, how to purchase, and how to make additional donations, visit https://www.indiegogo.com/projects/rights-and-resources-for-sex-workers-with-maggie-s-sex-worker-action-toronto.
Tasha's popularity and celebrity status has allowed her to speak out about sexual empowerment and feminism for a variety of media outlets, where her fans are drawn to her sexual nature, actions, and mind. In addition to being published in notable mainstream media outlets such as Huffington Post, Al Jazeera America, BroBible.com, and OC Weekly, Tasha has participated on a recent panel at UCLA, titled "Porn, Prostitution, and Censorship: The Politics of Empowerment."