Free Members Cam Show Thurs ($2 Trial!); Revealing Mainstream Interview
VENICE, CA – Ashley Sinclair has hit on a super popular theme with her the "Soccer Mom" series she's doing for her ClubSinful.com website and this weekend she released another titled "Workout-Gasm."
"It was something that fans requested a lot, but I'm still really surprised at how popular it has been," Ashley said. "It turns out a lot of guys have the soccer mom fantasy and I'm having a lot of fun making these videos."
She's also done some scenes for others lately, including one for Mofos' "Busted Babysitters" and others last fall on "Pervs on Patrol" and "I Know That Girl." She was also in an episode of "I Have a Wife" for Naughty America.
She was featured in a story about camgirls gone wild (in public) for Canada's National Post and from that she also was interviewed on the Kingkade & Breakenridge show on News Talk 770 in Calgary.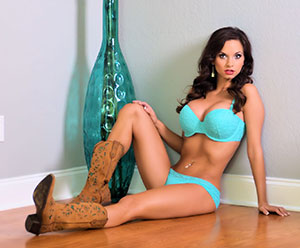 By asking the right questions they managed to get some information out of her that she's never talked about publicly before (who knew she rakes in around $5k a week from camming?!) and the whole conversation got her thinking about doing something she hasn't done before: shooting in public.
"It's starting to sound like a good idea," she said, "though I think doing it in libraries is kind of basic, for girls who are looking for a quick trip to fame. If I start doing it I'll come up with some more creative ways to do it. When it happens it's going to be hot."
Ashley was recently named Sexiest Adult Starlet at the Alt Awards and Crossover Performer of the Year at the 2015 Cammy Awards last month. She will be in Los Angeles later this month.
Ashley's Mofos videos can be found at www.mofos.com/tour/search_results/?q=ashley+sinclair. Her Naughty America page is at http://tour.naughtyamerica.com/pornstar/ashley-sinclair/?&nats=4.4.8.8.1169.0.0.0.0&apc=&term_cat=ashley-sinclair. Check out Ashley on Brazzers at www.brazzers.com/profile/view/id/2353/ashley-sinclair/.
Fans can now text Ashley – including pics and text messages – at Dream Lover. Go to http://www.dreamlover.com/ashleysinclair to connect with her.
Catch her cam shows 9 pm to 3 am ET nightly on http://iamashleysinclair.com,  and contact her for private shows via Skype and to fulfill fantasies with personalized videos (go to www.bookashley.com). She's also available on Verified Call (https://verifiedcall.com/profiles/AshleySinclair) for fans who want to chat with her. She is also available to shoot custom videos. For a free preview of what that can look like go to www.ClubSinful.com. Her adult toy store can be found at www.ashleysadultstore.com.
Ashley produces custom fetish content where the fan is the director. Contact AshleySinclairProductions@gmail.com for information.
Check out her websites, www.ashleyandfriends.com and http://clubsinful.com.
For everything Ashley go to http://risingstarpr.com/news/?page_id=7451. For up-to-the-second updates, follow Ashley on Twitter (@AshleySinclair0).