Following the success of the inaugural X Run event, the sexiest event in the themed-races circuit is returning to Miami! The X Run will take place on
Saturday, May 30th, 2015
at Virginia Key Beach Park, 4020 Virginia Beach Dr, Miami, FL 33149. To register for the event, please visit http://www.thexrun.com/. Don't miss the fun run of your life!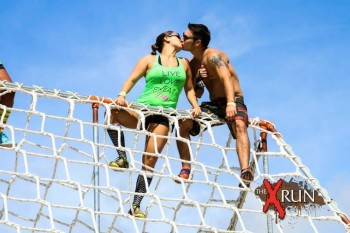 After an exciting and thrilling inaugural event in 2014, The X Run will once again offer a day of sexy fun fitness where participants of all fitness levels will feel strong, healthy and euphoric after completing the 5-mile adult-themed obstacle course, with names like the Blue Balls Dash, the G-string Crawl, Dominatrix Dungeon, and the Honey Slide. Competitors can enter on their own, as a pair, or as a team.
Sponsored by Playboy Radio, Fleshlight, and Luxury Lifestyle Vacation and more, The X Run promises to be a day of racy amusement and gritty determination as competitors tackle all the wild and outrageous obstacles like the Dominatrix Dungeon and the Blue Balls Dash. The Post-Race party will keep the action going with live music, food vendors, beer stands, a mud wrestling pit and much more! While there will be no sex or nudity on the run, there will be euphoric, non-stop action, plenty of physical challenges and lots and lots of mud!
There will also be sexy live entertainment, guest DJ, adult vendors, pole dancing demonstrations, mud wrestling, free beer and more!
The X Run will be supporting the Lotus Survival Foundation, a local breast cancer charity. The LSF's founder, Claudia Aguirre, is a breast cancer survivor. Through her personal journey to overcome breast cancer, she recognized the need to have a support group that would assist her through what was a very difficult and painful time in her life. Claudia determined to assist other survivors with the educational resources and support she found lacking during her own struggle. For more info, go to lotussurvivalfoundation.org
To learn more about sponsorship opportunities, please contact Kelly at info@thexrun.com or (954) 461-4211.
Must be 18 or older to participate.
For more information about the X Run, including sponsorship opportunities and interview requests, contact Kelly at info@xratedrun.com or (954) 461-4211 or visit www.thexrun.com.
ABOUT X RUN:The X Run is organized by Kelly Perez, owner of www.sensualsteals.com. She was inspired to create X-rated mud runs in her own efforts to lose weight. Her ex-marine cousin was putting her through military-style drills in preparation for her first mud run. As she crawled through the grass commando-style, Kelly reached her limit and yelled at him, "I sell sex toys for a living, I don't do this type of s#!t!" He told her to stop complaining and imagine she was crawling through a penis tunnel. A great idea was born. The X Run has been featured by Sports Illustrated, Miami New Times ,Blood Sweat and Cheers, and more.